The KPAC Blog features classical music news, reviews, and analysis from South Texas and around the world.
Frey Lends Excitement & Beauty To 'La Voce Del Violoncello'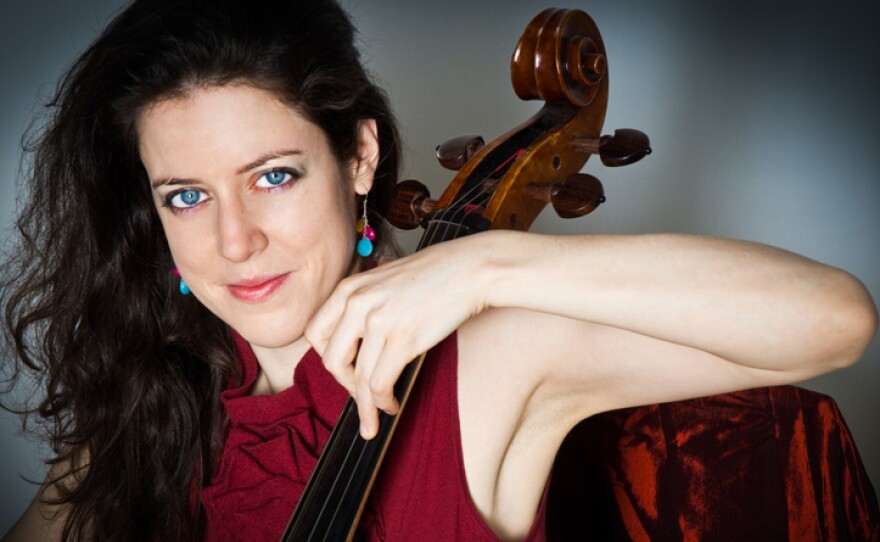 Cellist Elinor Frey
courtesy of the artist
La Voce Del Violoncello, new release
courtesy of the artist
The latest release from Passacaille Records is a solo cd of Elinor Frey, La Voce Del Violoncello. The amazing disc explores lesser known works of Italian cellist-composers such as Domenico Galli, Guiseppe Maria Dall'Abaco and more. The stellar recording is now available as a download or cd. I asked Elinor some questions about this project.
What inspired you to record Voce?
I was fascinated with the solo cello for many years. I was amazed how many voices and colors the one instrument could express. Eventually, I felt I needed to better understand where it all started, where this incredible genre began, and how that music connected to the famous suites of JS Bach. Admittedly, I had an idea that these origins had to do with Italy, which I love, and this led to doing a Fulbright year and doctoral degree studying Italian cello music, especially the Baroque cello and Italian-style from the late seventeenth century.
Where did you record Voce, and why?
I was really lucky to have the support of the McGill University Recording Project Prize for this project, and so I used their excellent Pollack Hall in Montréal. The hall is one of those places where being on stage puts you into the inspired feeling of live performance and where the solo cello has a wonderful resonant ring. The hall has a fully-equipped state-of-the art recording studio right there and we worked a lot to capture the intimacy of the music, the sound of the bow on the gut strings, and to highlight some of the great qualities of Baroque instruments.
Do you have a favorite track?
I have a soft spot for the Passa Galli of Vitali. It invokes walking steps, and feels simple, natural and contemplative, and yet tinged with sadness. My other favorite is the Galli Sonata #5. He is one of those composers who is very unknown and under-performed and perhaps not well understood, and yet, with time, I felt Galli's music really got deep under my skin. When I perform it, the room becomes quiet and thoughtful, and with the cello tuned dow, it's an incredible low ending. And, well... the end of the very last track (Supriani Toccata decima) has some flashy stuff that was pretty exciting to do on the Baroque cello!
http://youtu.be/4o7s_45a9Kc
Who are some of the performers that inspire you?
Well, of course Anner Bylsma is important for cellists interested in Baroque repertoire, and I adore many of his recordings. The Baroque cellists Paolo Beschi and Susie Napper, whom I studied with, both really helped change the way I hear music. Another really special musician is the cellist Giovanni Sollima, who I see as the re-incarnation of these composer-cellists on the album. His music is full of folk energy and a complete unity with the cello. Plus he's a really knowledgeable and fun guy! I've also been loving recordings by violinist Manfredo Kraemer. I'm a cellist, but I'm absolutely nuts for the violin!
What's next for you? More recording, performances?
Concerts! That's what I do! And to do the concerts that I dream of, it takes a lot of research and reading and digging around. I have been working on two new programs of cello music that I hope will end up in recordings. One has to do with my new 5-string cello, and the other involves more research on Italian Baroque cello music. This coming season is exciting for me: I'm playing the Lutoslawski cello concerto, which is a life-long dream, and I'm also performing a bunch of recitals that challenge me in new ways, for example one at Trinity Wall Street in New York where I'll need to use 3 different cellos. Fun stuff!
Here is a live performance of Frey, playing Dall'Abaco:
http://youtu.be/GHRjOaf_pAw
I love the sound and brilliance of this new release. La Voce Del Violoncello is available on iTunes and Amazon.