People March In Castle Hills To Support Black Lives Matter Movement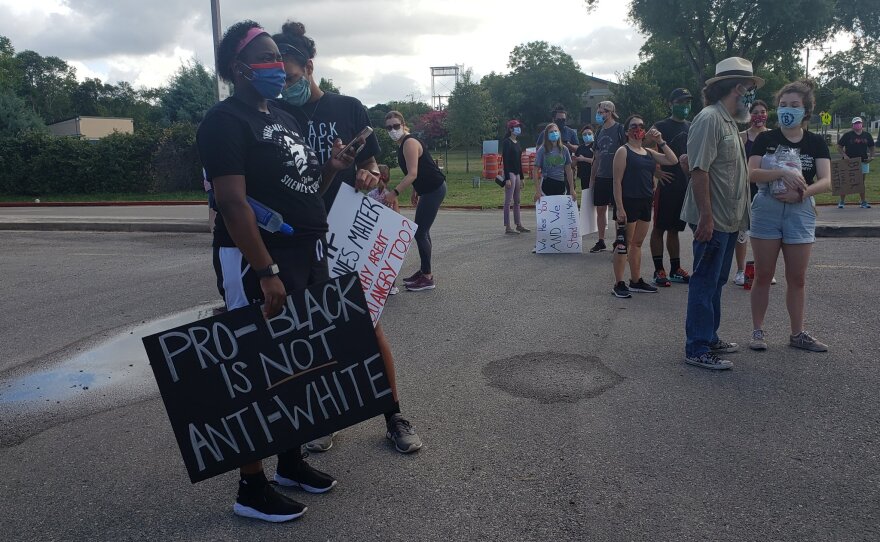 Jolene Almendarez | Texas Public Radio
Jolene Almendarez | Texas Public Radio
Jolene Almendarez | Texas Public Radio
The city of San Antonio is a majority minority city. But in Castle Hills, about 90 percent of residents are white. That's exactly why, organizers say, they staged a march through a neighborhood and along Northwest Military Highway on Saturday.
Participants gathered in front of the Castle Hills Municipal Offices building, stepping around the puddles in the pavement left by early morning rains.
Most wore masks, and they carried signs that read "Black Lives Matter," "BLM" and "White silence is violence."
The march began around 10 a.m. Police blocked off sidestreets. Men, women and children chanted "Black Lives Matter!" and "Whose streets? Our streets!"
Activist Ananda Tomas helped organize the event. "We need this visibility, we need to be out on the streets," she explained. "And that's one of the reasons why we're doing it here in Castle Hills today -- to be visible in every community. Racism hits every community."
She said racism can potentially take root in neighborhoods that aren't home to a variety of races.
"Racism hits every community. Castle Hills is not the most diverse neighborhood here but that's just a reason it's important to be here. Because neighborhoods like that tend to have some of the worst cases of racism," she said. "Not saying that we have a bunch of racists here, but when you have communities that are so segregated, you're going to have those one or two bad apples and it can be pretty serious."
The event's Facebook page said the march was "for visibility and in solidarity with the Black Lives Matter movement."
The marchers moved swiftly as the morning warmed. But their brisk pace did not deter Terrance Robinson, 76, who walked at the end of the procession.
Robinson said he and his wife stood toe-to-toe against Oklahoma police in the 1960s and fought for civil and voting rights for all Americans.
He said something snapped in him when he saw what happened to George Floyd. He's scared of catching COVID-19, but he said he felt like he had to be out in the streets to fight for civil rights again.
He used an empty wheelchair to help him walk. The armrests held a sign that read "I can't breathe."
76 yo Terrance Robinson picks up the tail end of the march. He said he and his wife stood toe-to-toe against Oklahoma police in the 60s while they helped fight for civil and voting rights. pic.twitter.com/GIOCnPMew5

— Jolene Almendarez (@jalmendarez57) June 20, 2020
Saturday's march is the latest in a three-week long stretch of events, demonstrations and marches in the San Antonio area, beginning with the vigil and clashes on May 30 at Travis Park and Alamo Plaza.
Since then, city and police officials have attempted to discuss the issues the San Antonio community must address in a post-George Floyd era of civil rights and humane policing.
Jolene Almendarez can be reached at JoleneAlmendarez@gmail.com and on Twitter at @jalmendarez57.