Overcoming Homelessness In 2012: The San Antonio Homeless Population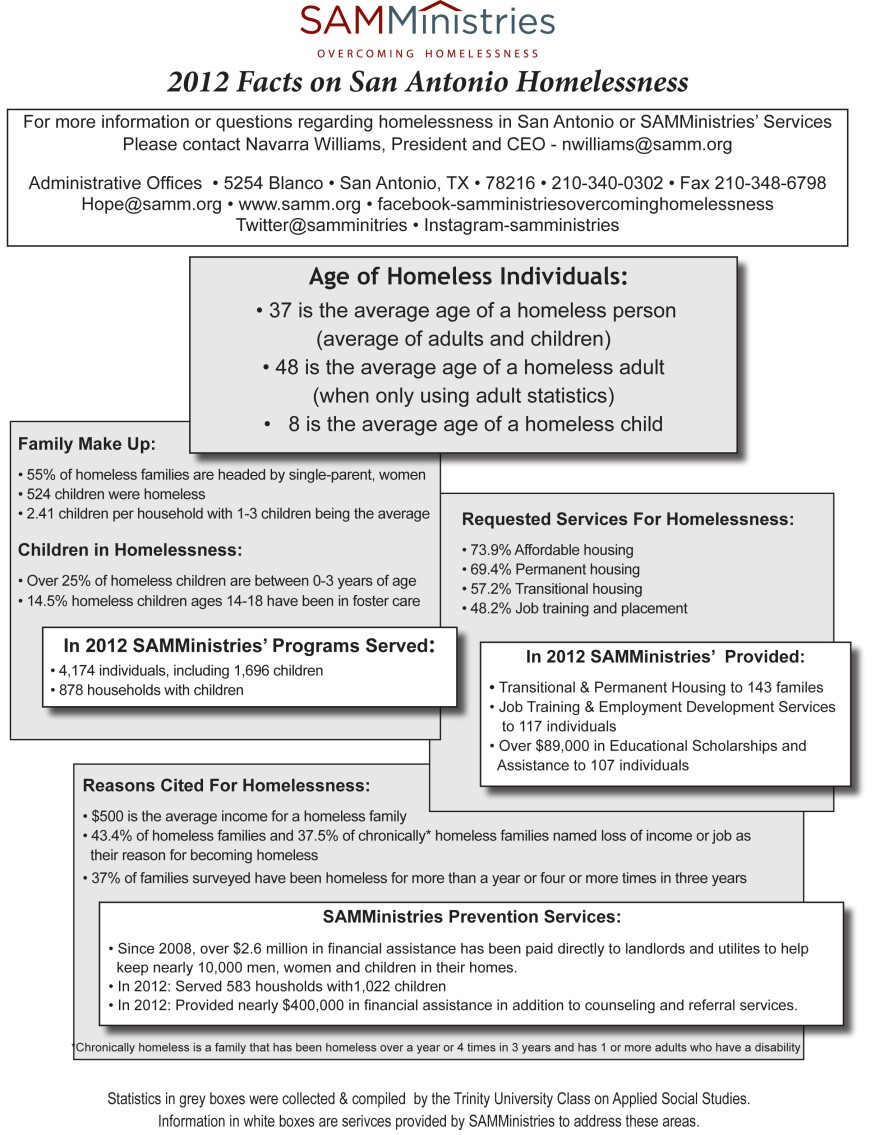 Numbers released this week show that the average income for a homeless family is $500 with affordable housing being the most requested service for the homeless (nearly 74 percent of those surveyed).
The 2012 Facts on San Antonio Homelessness were released by SAMMinistries and are based on statistics gathered and compiled by the Trinity University class on Applied Social Studies.
The information shows how the city's homeless population looks in four areas: Age of homeless individuals, family make up, requested services for homelessness, and reasons cited for homelessness.
Notable Findings:
43 percent of homeless families cite loss of income or job as reason for becoming homeless
The average age of a homeless adult is 48, average age of homeless child is 8
55 percent of homeless families are headed by a single parent, usually a mother
A total of 524 children were homeless with over 25 percent between the ages of zero and three
SAMMinistries showed how they made a difference in each area; the organization served 4,174 people in 2012 and helping find transitional and permanent housing for 143 families. The organization provided nearly $400,000 in financial assistance.
SAMM President and CEO Navarra Williams said millions of federal dollars helped keep the homeless prevention program going, which helped families pay bills and rent, but with much of that money now gone, the organization hopes to still keeping it going.
"I got to say that we're blessed. We've been able to keep a fairly significant program," said Williams. "Most of the organizations that got federal funds did not continue a robust program. We can only continue our program if we continue to get donations from the public of San Antonio."