Fronteras Extra: Connecting 11 Cameron County Communities
One of the many water/paddling trails that will be part of the Lower Rio Grande Valley Active Plan, Rancho Viejo.
Norma Martinez / Texas Public Radio
Overview of the Lower Rio Grande Valley Active Plan
Rails-to-Trails Conservancy
Graham Sevier-Schultz, owner of 7th and Park in Brownsville.
Courtesy of Graham Sevier-Schultz
Part of the Battlefield Trail outside the Palo Alto Battlefield National Historic Park
Norma Martinez / Texas Public Radio
Trail at Laguna Atascosa National Wildlife Refuge in Los Fresnos, part of the Lower Rio Grande Valley Active Plan
Norma Martinez / Texas Public Radio
Trail at McKelvey Park in Harlingen.
Norma Martinez / Texas Public Radio
On the southern tip of Texas, Cameron County is bordered by the Gulf of Mexico to the east and Mexico to the west. It ranks in the bottom 10 percent of the state in terms of overall health factors, according to the Centers for Disease Control and Prevention.
To counter these health risks, and to spur activity and tourism, a coalition of 11 communities in Cameron County is developing the Lower Rio Grande Valley Active Plan that will link the communities with 428 miles of on-and-off street hike-and-bike and water trails.
The trails will connect the communities of Brownsville, Harlingen, Laguna Vista, Combes, Los Fresnos, Los Indios, Port Isabel, Rio Hondo, San Benito, South Padre Island, and Rancho Viejo and is expected to take 10 to 15 years to complete.
Southern Pacific Linear Park Brownsville used to be an old railroad switching yard. It was cleared to create a nine-mile trail that leads to the Palo Alto Battlefield National Historic Park, the site of the first major battle of the U.S.-Mexico War in 1846.
A small coffee shop and bike shop, 7th and Park, is located near the Linear Park. Graham Sevier-Schultz, the owner of 7th and Park, says the proximity of a hike and bike trail attracted him to establish his business there, which is also close to museums and the zoo.
He says the area is the anchor of the Historic Battlefield Hike and Bike Trail, which begins at Linear Park.
"It's basically become like an outdoor event center," he said. "(It) made our decision pretty easy as soon as we found the location and it's worked out great."
Dr. Rose Gowen, a Brownsville physician and city commissioner, says 7th and Park is a prime example of "trail-oriented development." And she said it's the key in getting the community off the coach and on the trail.
The health risks in Cameron County drew Gowen towards more health-oriented policy-making. She says the UT Health School of Public Health in Brownsville identified one in three residents are diabetic, 80 percent are obese or overweight, and close to 70 percent are uninsured.
"All that combines to be a perfect storm," Gowen said. "The school of public health started talking to these 11 communities around us about the importance of healthy eating, active living, to try and reduce these rates."
Along with the trails, Rancho Viejo, a golf-centered community marked with a water tower shaped like a golf ball, features 78 miles of paddling and kayaking trails along this stretch of the gulf.
Eva Garcia, city planner with Brownsville, says the town is conveniently located between Harlingen and Brownsville.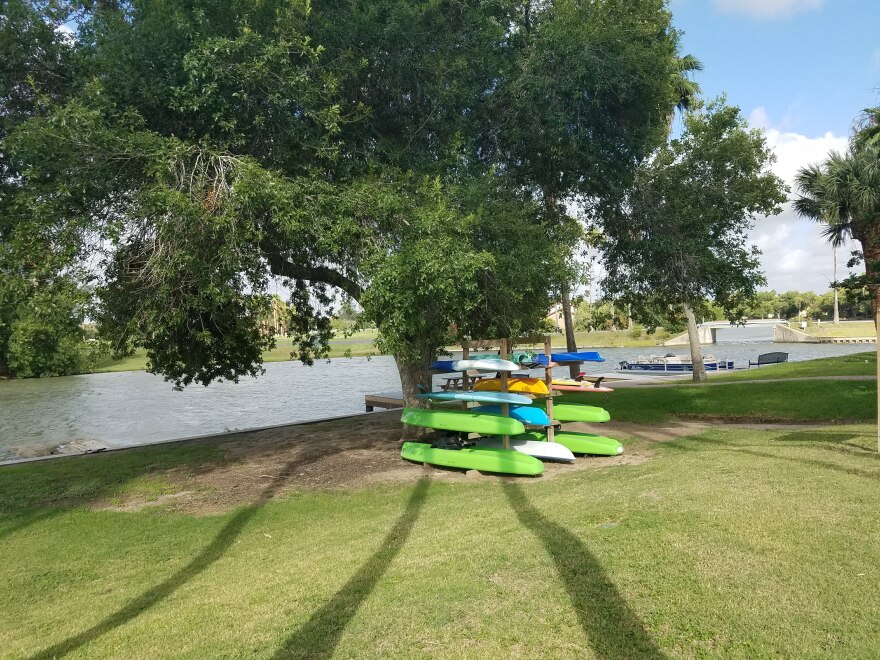 "So if you were biking throughout the county and needed to stop for a break, Rancho Viejo would be your oasis to take a break," Garcia said.
Harlingen is also a hot spot for birding, with more than 1,200 acres of public parks. McKelvey Park is an 11-acre park in Harlingen with an existing 2-mile trail.
Rodrigo Davila, planning and development director for Harlingen, says McKelvey Park is one of the most used parks in the city. He said the park already connects to a nearby expressway and "across the expressway there's an additional park which we are working on more connectivity to bring all the parks together."
Part of the funding will come from the Valley Baptist Legacy Foundation, which has already provided a two-year, $2 million grant to construct a 1.8-mile extension to the Historic Battlefield Trail in Brownsville that connects to Los Fresnos and an additional $1.2 million to connect McKelvey Park in Harlingen to another nearby park.
The Lower Rio Grande Valley Active Plan isn't just a means to increase tourism and activity. According to the U.S. Census, 34 percent of Cameron County residents live in poverty, and many people don't own cars.
"It's also about giving those routes and safety to the people who don't have a choice," Gowen said. "I own two cars and four bikes, but there are a lot of people who only own one bike and no car.
"What are we doing as communities to make their travel safer and more pleasant?"
Norma Martinez can be reached by email at norma@tpr.org and on Twitter @NormDog1