San Antonio University Finds Faults With Help From Drones
For two years, Trinity University associate professor of geosciences Ben Surpless has been bringing students to southern Utah to study the Sevier fault system.
This past trip, he tried something new: He and his students mapped the rock outcroppings with drones.
In a video shot by the university, Surpless stood in Red Hollow Canyon, flanked by two students.
"We're ready to go," said Surpless, revving the small drones four propellers.
It elicits an audible "ooh" from Mount Holyoke College senior Madison Woodley.
The drone, which is about the size of a small pizza box, shoots into the air with a loud electric whir.
The drone's high-definition cameras allowed them to make observations once only accessible with a rope and a climbing harness. And climbing is something Surpless doesn't want to learn — mostly because he "doesn't want to die," he joked, but there are other reasons.
"There're safety issues; there're cost issues; there are efficiencies in using drone work combined with computer technology," he said.
For years, commercial drones have improved with better battery life, stronger motors, lower cost and are easier to use. Researchers are increasingly turning to drones to collect data they couldn't before, including biologists using them to count trees and officials to monitor snow depth.
Surpless and his students are exploring what these exposed, striated rock outcroppings — the result of stresses from tectonic plates — can tell them about the fault zone below.
They are asking questions like: "How permeable is it" and "what does the network of fractured rock look like?"
The answers, he said, have implications for oil and gas exploration, understanding of how water moves through these areas and, most importantly, how far and where an earthquake's waves would travel.
"It's a huge area, and yet with just two weeks of work and 20 flights of the drone, we were able to collect data we will be able to use for probably the next year or two," Surpless said.
In a computer lab on Trinity's campus, senior Caroline McKeighan stitches photos from five different drone runs together to create a three-dimensional model of a rock outcropping in Red Hollow Canyon.
"I am gonna take drone flight video and cut it into pictures and take those pictures and build the model in a few different programs," she said.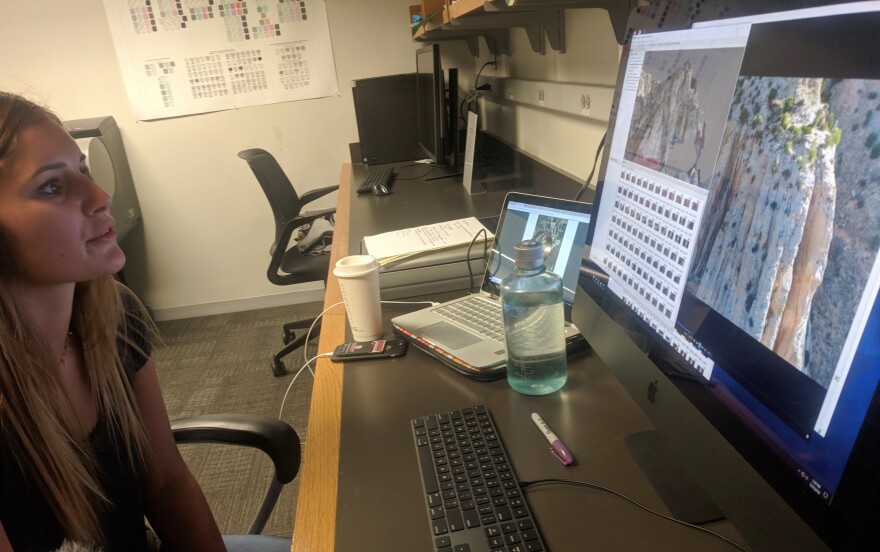 Multiple drone flights generate millions of data points, but McKeighan said today's computers can quickly match and render the images in about 20 minutes.
Surpless says these 3D models are changing the research because they are able to see how the rock face changes as it descends vertically, which is something past field analysis has lacked.
Researchers couldn't make these observations without spending a lot more time and effort, he said.
"These are things we wouldn't have been able to see from the ground other than very generally and now we're able to make direct measurements on those features," he said.
And they are finding big differences in those fractures along the vertical axis.
While several scientific papers are expected to come out of the project, Surpless thinks a paper on how they use the drones will spur use in other science fields.
Paul Flahive can be reached at Paul@tpr.org or on Twitter @paulflahive