Bathroom Bill Attracts Hundreds To The State Capitol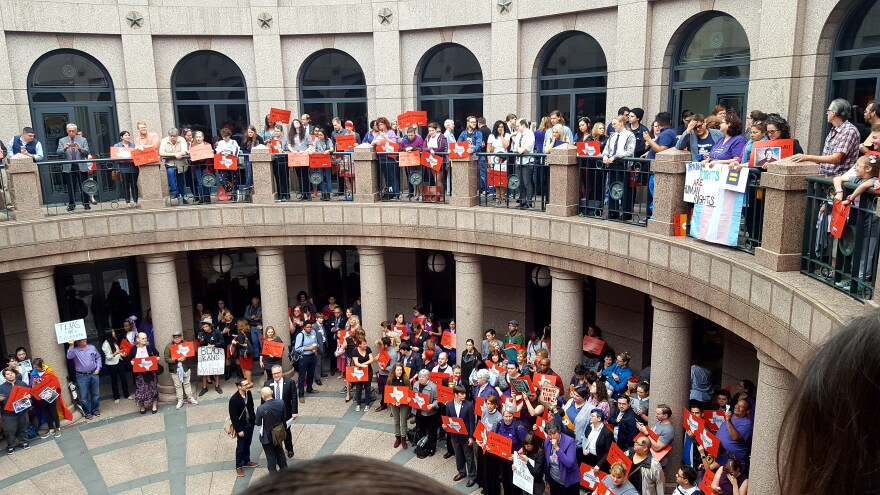 Texans from across the state are at the State Capitol in Austin today telling lawmakers how they feel about the Texas Privacy Act, better known as the Transgender Bathroom Bill. More than 400 signed up to testify at the first public hearing on legislation that has implications for businesses and families.
Ginger Chun from San Antonio was among dozens of moms who traveled to the Capitol to speak out against the bill. The 50-year mom says she represents the voice of her 16-year transgender daughter Marcy. Under the bill Marcy would be required to use the boy's bathroom at her school because that's the gender on Marcy's birth certificate. But Marcy identifies as a female.
"I'm concerned about the implications of this legislation on my child's comfort, and future and ability to learn," Chun says.
Chun believes the bill, if passed, will become a distraction every time her daughter needs to use the bathroom.
Parents in favor of the legislation also wanted their voices heard. Dripping Spring dad, Rob and his 10-year old daughter Shila, say the bill will protect Shila's safety.
"It makes me a little uncomfortable to know that a little boy could come into the bathroom with me," Shila says.
In the Senate committee hearing, San Antonio Pastor Charles Flowers joined some other religious leaders in supporting Senate Bill 6.
"We have not been confused about gender for 6-thousand years of human history and now it's an issue. And it's commonsense, SB 6 is reasonable commendations, it's not excluding anyone," Flowers says.
Concerns about the bathroom bill loom especially large in cities like San Antonio, which worry events and conventions will bypass their communities if legislation viewed as discriminatory becomes law.
Michael Sawaya is the director of San Antonio's Convention, Sports and Entertainment Center. He says he's already fielding concerns from groups booking events.
"There are many conventions and meeting planners are concerned and they are monitoring this and they haven't made decisions yet on what they are planning to do, but one or two have mentioned that if something like this (bill) passes they would consider other destinations," Sawaya explains.
San Antonio City Councilwoman Rebecca Viagran is telling lawmakers passage of the bathroom bill could jeopardize the city's contract to host the 2018 NCAA Final Four Tournament.
"We've already invested over $50 million in the Alamodome renovations and we've already seen signals of NCAA pulling games or events if a discriminatory bill is passed, so those are some true legitimate concerns," Viagran explains.
Lt. Gov Dan Patrick, who preside over the Texas Senate is pleased with the support he says he's seen for the bill and disputes claims that a similar bill passed last year in North Carolina led to a loss of jobs and hurt the state's economy.
"The economic powerhouse that is North Carolina, they're competing with us in Texas, the 76-thousand jobs that have been created, the boom in tourism and construction of hotels and housing," Patrick says.
If Patrick and the Senate pass the bathroom bill it will face stiff opposition in the Texas House where House Speaker Joe Straus, from San Antonio, could prevent it from gaining traction.
"Clearly I'm not a fan of the bill they are discussing in the Senate today," Straus says.
The bathroom bill could get a vote in the full Texas Senate next week.