Faux Bois: Real Artistry Behind Fake Wood
Carlos Cortes's Palapa at the Landa Library
Jack Morgan
Dionicio Rodriguez and Maximo Cortes, fake shims on Japanese Tea Garden gate
Jack Morgan
Carlos Cortes bench at the Witte Museum
Jack Morgan
Carlos Cortes's Grotto, waterfall
Jack Morgan
Dionicio Rodriguez shaded bench at the Zoo
Jack Morgan
Dionicio Rodriguez stations of the cross at St. Anthony of Padua Catholic Church
Jack Morgan
The Treehouse at the Witte, that odd bus stop by the H-E-B on Broadway, and that great big gate at the Japanese Tea Garden. These are works of art that all look like wood, but aren't. These are the works of two men whose artistry far exceeds their fame. Those artists are Dionicio Rodriguez and Carlos Cortes.
Patsy Pittman Light thought Rodriguez's works were so important that she wrote a biography on him. "Capturing Nature: The Cement Sculpture of Dionicio Rodriguez" details his life and work.
"Dionicio Rodriguez was a Mexican citizen who came to San Antonio in 1924," she said. "He spawned a whole new group of artisans who worked in cement and concrete."
His pieces are all over town, but you may not have known you were seeing cement because he was so good at obscuring that his media was concrete.
"We're not sure where he learned the technique that we call El Trabajo Rustico and the French call it Faux Bois," Light said.
Trabajo Rustico translates to "rustic work" and faux bois means "fake wood." Rodriguez made a career over the next 30 years in San Antonio and elsewhere by making concrete look like anything but concrete. When Dr. Aureliano Urrutia began to build his personal garden, Miraflores, he hired Rodriguez to design several works, most of which are still there. As to where else you might have seen Rodriguez's work, one prominent piece is hard to miss.
"I think the bridge in Brackenridge Park stands out probably as the most fantastic piece that we know," she said.
That massive Brackenridge park pedestrian bridge looks remarkably like tree branches strung together in a long, rectangular cube to make a walkway. That walkway was Light's initial inspiration to document all of Rodriguez's works, and that documentation morphed into her book. The artist's high-output career took place mostly during the Great Depression, when many Americans could find little work. Light thinks his combination of skills and timing worked well for him.
"I think that these businessmen that wanted to develop their projects, saw someone who could do something for them cheaply during the Depression," she said. "And the word of mouth publicity he got because he didn't advertise was worth a million dollars."
Indeed, although San Antonio has the greatest number of his works, he did projects in eight states, from Maryland to Illinois. Another of his noteworthy local works is the gate built by Rodriguez and his partner Maximo Cortes at the entrance to the Japanese Tea Garden.
"I like the Japanese Tea Garden gate just because it looks like a Torii Gate," Light said. "And the stories that go with it."
One of those stories is a tragic one. A Japanese-American family lived there for two decades, serving tea and sandwiches, and caring for the garden. But after the Pearl Harbor attack on Dec. 7, 1941, a wave of anti-Japanese sentiment forced them to leave. By the next year, when the dramatic gate had been built, the park had been re-named the Chinese Tea Garden.
"The sign on it is in Chinese and it does say Chinese tea garden in calligraphy," she said.
Aside from the gate's controversy, its artistry is beyond question. That gate, and fourteen other Rodriguez artworks are listed in the National Register of Historic Places.
"They did a wonderful job. They were both very talented," she said. "Fortunately the way the sun falls on it, a lot of the original color is still there. So it makes you even believe in the wedges that are put in."
Light's referencing what appear to the eye as wooden wedges inserted to tighten up joints. They are of course, cement, like the rest of the gate, so they serve no function. They just deepen the illusion. It may be a subtle touch of humor added by the pair.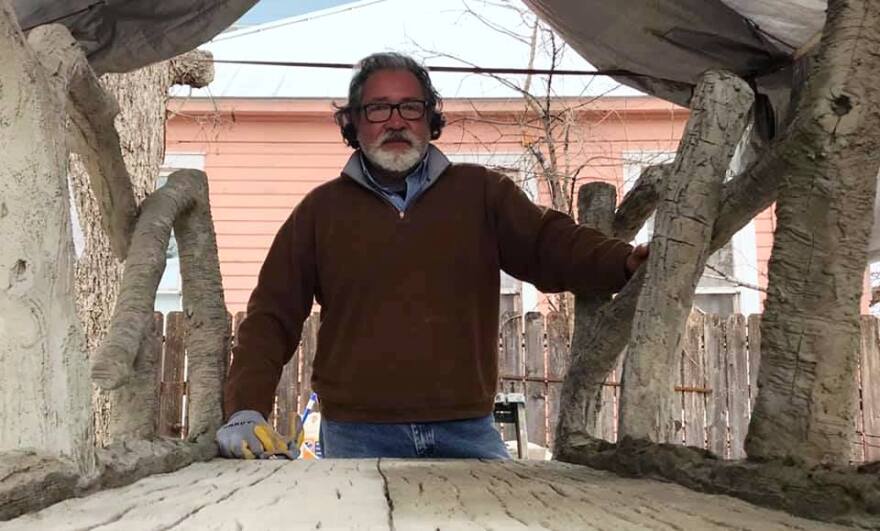 I met recently with Carlos Cortes--Maximo's son--at his outdoor studio in Southtown, where I asked him to tell me about his dad.
"Well, I thought my dad's work was just beautiful. I think he was very, very talented," he said.
In the early 1920s, Dionicio Rodriguez had worked with Maximo's father in Monterrey. While on a San Antonio visit, Rodriguez encouraged Maximo to move here. Light said Cortes was treated as an equal by Rodriguez rather than an employee.
Eventually, Maximo split off and formed his own business, focusing on private works. One exception: an elevated concrete bench on the grounds of the Omega Retreat Center overlooking Boerne. A small concrete plaque with "M. Cortes" marks the piece, and Carlos is amused by something else on that plaque.
https://youtu.be/k8alvxFKSqM","_id":"00000174-b161-ddc3-a1fc-bffb7ae90000","_type":"035d81d3-5be2-3ed2-bc8a-6da208e0d9e2"}">https://youtu.be/k8alvxFKSqM"> https://youtu.be/k8alvxFKSqM","_id":"00000174-b161-ddc3-a1fc-bffb7ae90000","_type":"035d81d3-5be2-3ed2-bc8a-6da208e0d9e2"}">https://youtu.be/k8alvxFKSqM
"My Dad even put a phone number on that one, that bench in Boerne," he said. "I'm like, 'they had a phone?' I'm surprised, it was 1927 when he did that work!"
While Carlos helped his father create faux bois pieces from a very young age, Maximo supported his schooling and even encouraged him to consider other careers. After a career in drafting, Carlos returned to San Antonio in his early 30s, deciding faux bois was his destiny.
"My dad would've been in his eighties. I just thought my dad was gonna live forever."
As he spoke, Carlos's voice cracked. He looked down, his lip began to quiver, and his eyes filled with tears. Clearly, the immense respect he had for his dad's talent wasn't the extent of his feelings for him.
"Excuse me," Carlos said. He continued his remembrance a minute later.
Maximo created faux bois until he was 91 years old, accepting help from Carlos on the work's more physical aspects. Carlos had a family to support. So as he grew into the work, he created many private and public installations. At times he partnered with artist Gary Sweeney, who speaks glowingly of Carlos.
"Carlos and I collaborated on a project in Houston where we designed a park for a neighborhood called the Navigation Street and it's where ships used to come up and drop off their goods at the warehouses," he said.
Sweeney's clever idea was to make a wooden-looking faux bois anchor--as if a wooden anchor would ever sink to the bottom. Carlos built it for him.
"He did a magnificent job and then when they delivered it to the park, the park people just went crazy," Sweeney said. "It just looks so good and it's there permanently. It's nice to think that that's going to be there in a hundred years."
Here in San Antonio, Cortes has work all over town. His largest work by far is the Grotto on the Museum Reach, just a block south of the Pearl Development. Cortes said the original request was for a relatively small piece.
"The project was maybe 30 feet wide. And I don't know how I was able to convince them that we should go for something a little bit bigger," he said.
That Grotto, at Newell and Camden Streets, grew to 130 feet long. It features a long, winding stairway, two waterfalls, and benches throughout. Cortes described some of its other features.
"There's father nature's, the face there inside the grotto and Mother Nature is actually above the grotto. Mother Nature's an abstract image of the Virgin," Cortes said.
Given that Father Nature is about 15 feet deep in the dark cave, a light source was needed so he could be seen. Cortes created a hollow street-level feature that allowed light into Father Nature below.
"I decided to make it a tree stump. That is an ode to Dionicio right there because that's what Dionicio would've done," he said.
Light flows through that hollow stump, lighting the water flowing through Father Nature's mouth.
A lesser-told grotto story is what's across the street from it, two more Cortes creations: a palapa-style bus stop, and two river-level benches. They weren't even part of the Grotto contract; Cortes built them to just give his new crew experience.
https://youtu.be/Tw9AJOy5nfE","_id":"00000174-b161-ddc3-a1fc-bffb7ae90002","_type":"035d81d3-5be2-3ed2-bc8a-6da208e0d9e2"}">https://youtu.be/Tw9AJOy5nfE">https://youtu.be/Tw9AJOy5nfE","_id":"00000174-b161-ddc3-a1fc-bffb7ae90002","_type":"035d81d3-5be2-3ed2-bc8a-6da208e0d9e2"}">https://youtu.be/Tw9AJOy5nfE
"They had worked with me for a little while, but not on any sort of project. So I just kind of guided them," Cortes said. "And I think that it turned out okay."
That palapa turned out a lot better than okay. Cortes is humble to a fault. The palapa's "root system" fans out from the trunk, forming seating where anyone waiting for a bus--it doubles as a bus stop--can sit. A prickly pair grows from a planter at its highest point. And mercifully for San Antonio summers, the whole thing provides shade.
As Cortes tells the stories of his creations, he conveys a strong sense of humility. He's simply not comfortable with accolades.
"For me, my heroes are my dad and my great uncle," he said.
Despite being featured on Martha Stewart's TV program--she's a big fan--and having some of the city's most visible artworks, Cortes sees himself as just carrying on family tradition.
"Here we are, 2019 and we're still talking about the work that they did almost a hundred years ago," he said.
His occasional collaborator, Gary Sweeney, thinks that all three--especially Carlos--aren't given their due.
"Boy, if this was in some other place, they would be throwing parades for him. He would be a national treasure," Sweeney said.
From Rodriguez's first art here nearly a hundred years ago, these artists have labored largely in obscurity. Perhaps a hundred years from now, Rodriguez's and both Cortes's sculptures will have been given the credit that's just out of reach now.
Use the interactive map below to locate faux bois artwork in and around San Antonio: