A Closer Look At The Obelisk In Beacon Hill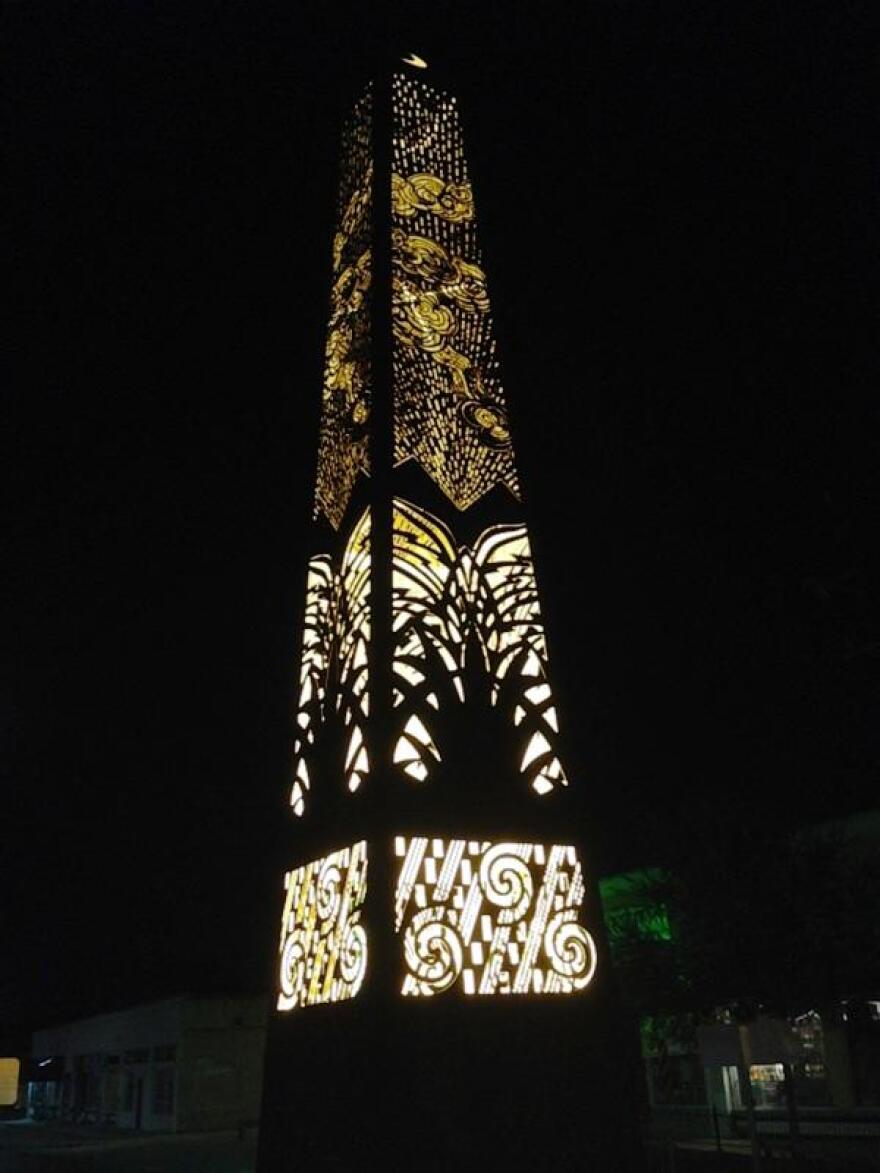 Public art comes in many sizes, and is put in many places. One in particular fascinated me recently. You probably have seen it; it's right in the middle of the road.
"The obelisk at Fulton and Blanco is actually part of an earlier bond program," said city of San Antonio Public Arts Manager Jimmy LeFlore, talking about the 28-foot-tall, four-sided obelisk in the middle of the traffic roundabout. As LeFlore said, this public art aspired to an additional, unusual function.
"Bringing business back to that neighborhood and really making that a Main Street type of environment," he said.
Creating a roundabout necessarily causes people to slow down, and putting art in the middle gives them an incentive to park and get out to look. The art is fascinating any time, but most especially at night. The steel has been cut out in patterns that lights reveal from within only at night. Angel Rodriguez-Diaz is the artist who created the obelisk in the Beacon Hill neighborhood, and he describes some of its elements.
"There's a century plant that opens up and leads to the rest of the imagery that goes towards the top," Rodriguez-Diaz said.
Further imagery shown on the Obelisk are the two hilltops just this side of the town of Blanco.
"You can see them on the horizon, two peaks, and they call them twin sisters," he explained. "Then it goes into these billowing clouds, kind of Chinese style."
These images, and patterns from indigenous textiles and even a crescent moon carved into the pyramidal top, all emerge when you go see the obelisk at night.
"This is basically my contribution to my neighborhood. I live here in Beacon Hill," he said, "and I wanted to create something that people in the neighborhood could, you know, be proud about."
Rodriguez-Diaz has done that. Now he's creating another public art project in a different neighborhood. I'll tell you much more about that in a month or so when it's done.
Iphone video of the Obelisk at night: