Paxton & Branch Jockey For Position In Republican Attorney General Runoff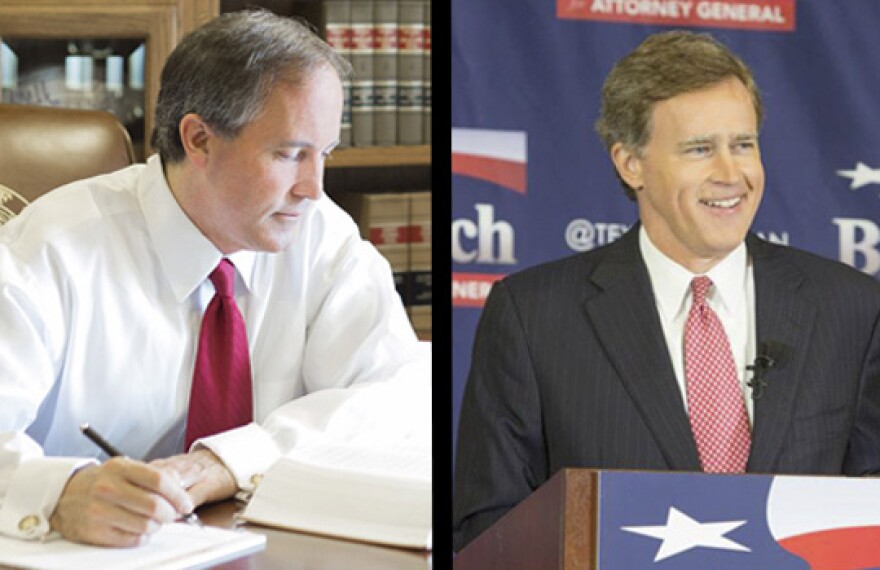 Texas Matters: While a lot of attention has been paid to the lieutenant governor runoff, the Republican attorney general runoff between Ken Paxton and Dan Branch is turning out to be equally intriguing. Also on this show: It's a runoff election, so turnout is likely going to be very low.
Enough about lieutenant governor, how about the attorney general runoff?
This week is early voting in the Texas runoff elections. The big race is for lieutenant governor, where state Sen. Dan Patrick is challenging incumbent David Dewhurst, but there is another major high-profile runoff on the GOP ballot that's no less significant and critical for the future of Texas: Attorney general.
Over the last few weeks both camps have announced numerous endorsements; most significant of those was Sen. Ted Cruz supporting, but coming short of endorsing, state Sen. Ken Paxton, who came into the runoff with the most votes.
The question is: Has state Rep. Dan Branch, Paxton's opponent in the runoff, been able to use recent controversies about Paxton's $1,000 fine over breaking a securities and investment law and possible criminal prosecution to win voters?
The winner of the May 27 primary will meet Houston Democrat Sam Houston in the November general election.
State Rep. Dan Branch is in his sixth term representing the District 108 of Texas, which includes downtown Dallas as well as Highland Park and University Park. In the primary he won 33.5 percent of the vote.
"It's not just the $1,000 fine -- that's an administrative fine and the reprimand. But if you read the four page May 2 disciplinary order, the admissions in there are to acts that are a felony and those are prosecuted, of course, by a district attorneys. Some of the other admissions that acts took place during federal oversight, those will be taken up by the Security and Exchange Commission and any prosecution would be by a U.S. attorney, ultimately leading to the United States attorney general."
State Sen. Ken Paxton isn't talking but his spokesman, Anthony Holm, is. Paxton represents Senate District 8, which covers the Dallas metroplex cities of McKinney, Allen, Plano, Richardson and others.
"Over the last 10 years Senator Paxton has referred six people to an organization. It's perfectly legal and perfectly fine, it's a financial planner, but he has a duty, they both carry a duty -- the financial entity and Senator Paxton -- to make sure that annual notice is given to the state of Texas. It's a notice filing and you pay a $285 fee and you move on down the road. And there were, frankly, there were just lapses during the last decade and periods of time and as a result we took a fine. But these outrageous attacks by Team Branch are just absurd. You don't get criminal harm over something that's a $1,000 fine."
Also on this edition of Texas Matters:
Some important races, but likely a low voter turnout
The run-off day falls a day after Memorial Day – many people are busy wrapping up the school year and gearing up for the summer – and that's seen as one more reason why there's so little public interest in the run-offs.
Harvey Kronberg of the Quorum Report says to expect a low voter turnout in these highly important races. Kronberg is the editor of the Quorum Report, an online newsletter that covers Texas politics.