How San Antonio's Oldest Public Housing Project Shaped West Side Culture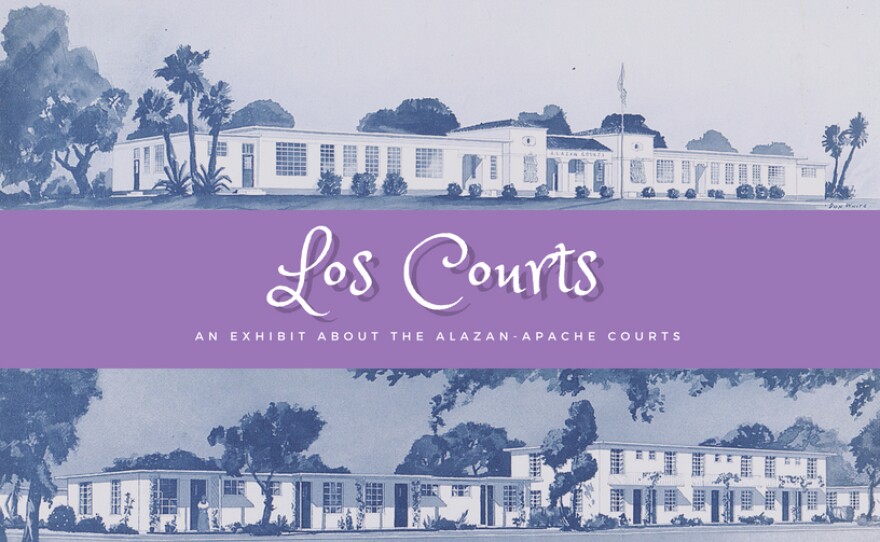 A residence at the Alazán-Apache Courts."
Norma Martinez / Texas Public Radio
A structure making up the Alazán-Apache Cours."
Norma Martinez / Texas Public Radio
An exhibit panel highlighting the 1921 flood that killed dozens on San Antonio's West Side and led activists to lobby for public housing.
Norma Martinez / Texas Public Radio
An exhibit panel displaying the 1947 wedding photo of Alazán-Apache Courts residents, Lilia and Manuel Vela"
Norma Martinez / Texas Public Radio
An exhibit panel displaying some of the courts' notable residents, including singer Blanca Rodriguez.
Norma Martinez / Texas Public Radio
Exhibit panel displaying the shacks that were eventually demolished and replaced by the Alazán-Apache Courts."
Norma Martinez / Texas Public Radio
The Alazán Courts Community Room, which is housing the exhibit."
Norma Martinez / Texas Public Radio
Alazán-Apache Courts was the first public housing project in San Antonio. It was built in 1941, after San Antonio priest Carmelo Tranchese lobbied Eleanor Roosevelt to create affordable housing in San Antonio's impoverished, mostly Mexican-American West Side.
The Esperanza Peace and Justice Center and the Westside Preservation Alliance have collaborated for the new exhibit "Los Courts." It highlights the residents and culture that grew out of the projects.
The buildings were a welcomed change for West Siders, whose homes previously had no indoor plumbing and floors were made of dirt. They now had roofs over their heads and running water.
In the court's community center, tall panels display pictures and stories detailing its history, including the residents who once made their home there.
One panel features a 1947 photo of a just-married couple standing in front of their home. Lila Vela, 91, is the bride in that photo. Her husband Manuel died 11 years ago. Vela was one of the courts' original residents.
Vela said the best memories she had of the courts were of simply having a roof over her head.
"Having a toilet. Having a bathtub," she said. "We didn't have that where we used to live in the old neighborhoods."
Another one of the courts' original residents was Blanca Rodriguez, known to San Antonians as "Blanca Rosa," a member of the vocal group Las Tesoros de San Antonio. This vivacious 84-year-old also holds good memories of growing up in the courts.
"They used to have arts and crafts and games, and everything for the young people, basketball, I used to play basketball. I grew up here," Gonzalez said. "I'm very proud to have grown up in the Alazán Apache Courts."
The Alazán-Apache Courts are one- and two-story concrete structures with metal doors and no doorbells. There is no laundry room for residents, and most units have no central air conditioning, relying instead on window units. Free Wi-Fi is only available in the community room. What was once a step up for residents back in 1941 is considered substandard today.
The San Antonio Housing Authority has been renovating and redeveloping public housing across the city. David Nisivoccia, president and CEO of SAHA, said the 70-plus-year-old concrete buildings are due for redevelopment, which opens up opportunities to residents.
"(No) matter where you live you shouldn't be condemned to a life of poverty. You should have the same opportunities. That doesn't happen here in these developments."
But Graciela Sanchez, director of the Esperanza Peace and Justice Center, said redevelopment would require a temporary relocation of residents.
"How will the schools be affected?" Sanchez said. "Will the new occupants have children? Will those children and parents who are middle and upper class want to send them to low performing schools?"
Sanchez says redevelopment would also disrupt the neighborhood's social networks.
"People might live in the courts, but the abuelitas or their tias live in the surrounding areas. They need that for the babysitting they need that for that network," she said. "It's going to affect San Antonio dramatically."
But pride in San Antonio's West Side is what brings residents and visitors to the opening of the exhibit. And singer Blanca Rodriguez, who left the courts decades ago, never fails to tout her "orgullo."
"I am very, very proud to be a member of the Westside of San Antonio," Rodriguez said. "Everywhere I perform, either by myself or with the girls, I always mention that I'm from the West Side."
"Los Courts" remains on display at the Alazán Courts community room through Oct. 26.
Norma Martinez can be reached by email at norma@tpr.org and on Twitter @NormDog1