Fronteras Extra: San Antonio 'A City Of Cosmic Crossroads'
Fiesta ceremony at the Alamo
Photograph courtesy of Fiesta® San Antonio Commission/© Betsy Newman Photography
Fiesta ceremony at the Alamo
Photograph courtesy of Fiesta® San Antonio Commission/© Betsy Newman Photography
Official Fiesta 2018 poster
Official Fiesta 2018 poster
John Phillip Santos, a San Antonio writer, journalist, and filmmaker, attended San Antonio Fiesta events as a child. His grandmother pointed out that " 'This was a celebration of the defeat of the Mexicans,' " Santos said.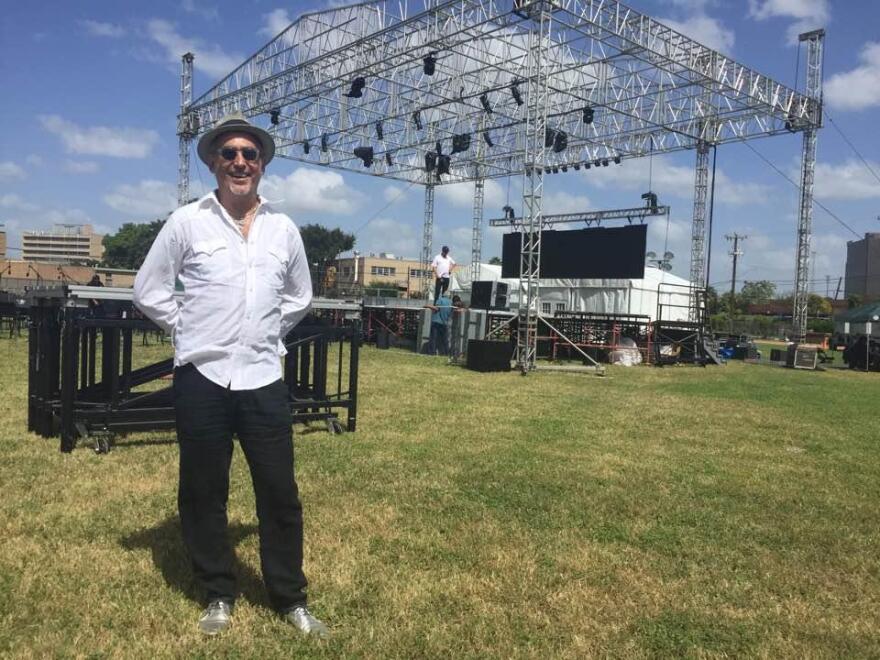 Santos said Fiesta's evolution through the years allowed residents to "reinvent the city, to reinvent ourselves, to find new ways of telling that story, to ironize some aspects of it, to contest other elements of it.
"I still have hopes that we could turn the Alamo into a museum of failed immigration policies. You know, I think that is really what the Alamo story is about, a kind of a museum of, of immigration policies and laws of unintended consequences."
jp_santos_extra_race_live_in_hyphen.mp3
Santos said today's Fiesta draws upon the culture of rasquachismo, which he said is "taking things at that are at hand, off cast, recycled elements mixing and matching, making the best of a maybe not-great situation. That's been our tradition."
Santos said today's "carnivalesque" atmosphere helped counter the Anglo legacy. "We had our share of violence and lynchings and worse but the spirit that's prevailed, at least for now, has been one of improvisation, irony, humor, festivity. That's unique," he said.
Santos brought up a recent decision by the State Board of Education to approve a Mexican-American studies course. Board members concerned about the divisiveness suggested by the hyphen renamed the course to Ethnic Studies: An Overview of Americans of Mexican Descent.
"One of the state board members said he doesn't like hyphenated Americans," Santos said. "This is a hyphenated place. San Antonio is a hyphenated place and we live in the hyphen."
jp_santos_extra_city_of_cosmic_crossroads.mp3
John Phillip Santos: San Antonio "a city of cosmic crossroads."
Santos said San Antonio has transformed into "a cosmic city," with a confluence of cultures centering on Mexican-Americanism.
"Our Plymouth Rock is in Tenochtitlán in Mexico City, where the story really began for San Antonio, and all of the events that ensue from that story slowly, incrementally shape what San Antonio has become," he said.
Santos said this year's tricentennial celebration is giving the city a chance to tell its unique story which isn't necessarily reflected during Fiesta.
"Take a moment to really appreciate what kind of epic tales San Antonio carries, and how all of us participate in it, regardless of being Mexican in origin or not," he said. "... It's become the city of all nations, kind of a Whitmanesque city of the borderlands. We're gonna realize in years to come how important the story is especially to share with the rest of America."
Norma Martinez can be reached by email at norma@tpr.org and on Twitter @NormDog1