The KPAC Blog features classical music news, reviews, and analysis from South Texas and around the world.
Mariachi Christmas, Ranky Tanky Rhythms And Handel's 'Messiah': Your Weekend Is Here
Dance to some Mariachi Christmas music. Get down with some Ranky Tanky rhythms. And then reflect on the season with a classic piece from Handel. This weekend will hum with holiday music, and here are the details.
First off, Belinda Menchaca said you should head to the near west side to theGuadalupe Theater on Friday for a Mexican styled Christmas.
"We have our first Friday series and tonight's event is Celebrando Tradiciones, Celebrating Traditions," she said. "And it's a special holiday experience with the Guadalupe Dance Company and the Mariachi Azteca de America."
Authentically costumed dancers will move to the groove laid down by the Mariachi group playing a synthesis of music.
"Tonight's (Friday's) performance is going to be guitar, violin, trumpet, the traditional sounds of Mariachi music," Menchaca said. "But in addition to our traditional folklorico dances from Oaxaca, from Guerrero, from Puebla — the various states of Mexico —we're also doing traditional Christmas songs, so there's definitely holiday flair. A beautiful combination of folklorico dance and Christmas music."
The Guadalupe's intimate theater ensures clean line-of-sight to all who go, tonight at 8 p.m.
IF YOU GO What: Celebrando Tradiciones  Where: Guadalupe Theater When: 8 p.m. Friday Cost:  $10-$25
Also Friday, the Carver Community Cultural Center, singer Quiana Parler explains the name of her group Ranky Tanky.
https://www.youtube.com/watch?v=41zRf0lDzGM
"Ranky Tanky means work it; get funky!" she said.
A quick scan through the YouTube uploads of the band reveals that they definitely know how to do both.
"We like to have a good time!" she laughed.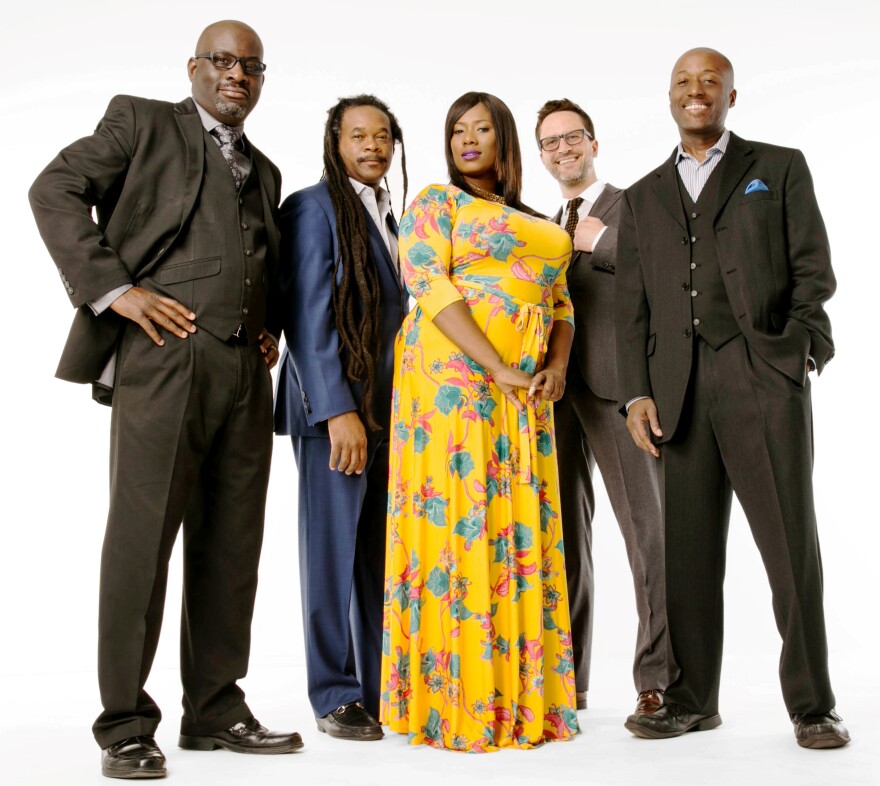 The five-member, Grammy-nominated group is keeping Gullah culture alive. Originally the Gullahs were Africans brought as slaves to the island right next to Hilton Head, South Carolina to work the rice fields. After freedom came, the Gullah people stayed on the island named Dafuskie Island, and thrived.
"It's just a very, very eclectic group of people," Parler said. "We like to call ourselves ambassadors of the Gullah community, the Gullah people, spreading the knowledge and the beautiful arts and crafts."
This isn't Parler's first big gig; she sang for years with major stars.
"I was on the road for over 10 years with Kelly Clarkson and Clay Aiken. This is completely different. This is my baby, Ranky Tanky is," she said.
The narrow confines of the island breeds familiarity and longevity, so this group of musicians knows how to play together.
"I've known some of these guys in the band since I was 9 years old, and I'll be 40 this month, so we've been friends for a long time," she said.
You can catch them Friday.
IF YOU GO What: Ranky Tanky concert Where: Carver Community Cultural Arts When: 8 p.m. Friday Cost:  $35
Then on Sunday, Chancey Blackburn says you can relish in a holiday favorite from the San Antonio Mastersingers.
"We are the first and therefore the oldest symphony chorus in the state of Texas," she said. "Celebrating 75 years of providing choral excellence, 140 voices."
They'll be singing what Blackburn says is the most recognized piece of classical music in existence.
"Once again we are doing our annual performance of Handel's 'Messiah' on Sunday.
As to why it resonates with so many, she thinks Handel nailed it when he composed it 278 years ago.
"I think that his passion came through in the music. It's because it's such a masterpiece. It's so compelling," Blackburn said. "And people love to hear it, but people love to sing it. It's hard not to!"
The whole thing builds to a crescendo with its most distinctive part.
"We have a fabulous trumpet section, and you have to have that for the 'Hallelujah' chorus!" she said.
They're singing at 3 p.m. Sunday afternoon at the University United Methodist Church, but she says there's one more performance she wants you to know about.
"Another thrill of this 75th season is that we've been invited to perform with Andrea Bocelli at the AT&T center just a couple of days after the Messiah, so Wednesday, [December] 11," she said.
Duly noted!
IF YOU GO What: Handel's Messiah concert Where: University United Methodist Church When: 3 p.m. Wednesday Cost:  $25-$50
Jack Morgan can be reached at Jack@TPR.org and on Twitter at @JackMorganii.
NOTE: a previous version of this story mentioned the Mastersingers' performance of "Messiah" is "the only 'Messiah' performance this year, with orchestra." That reference has been deleted from the text above, as a community choir and orchestra also will perform "Messiah" on Friday, Dec. 6 and Saturday, Dec. 7 at the Church of Jesus Christ of Latter-day Saints. Admission is free. samessiah.com