What Are The Duties Of The Texas Ag Commissioner?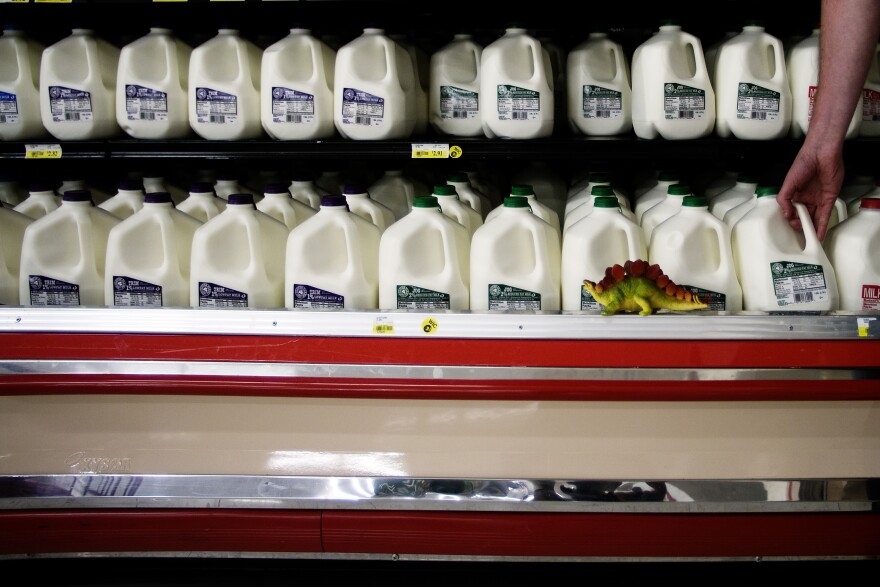 Election day is just a few days away, and by now you've heard a ton about the fierce senate contest between Ted Cruz and Beto O'Rourke. But what about those other statewide races, like the agriculture commissioner race?
Republican incumbent Sid Miller is challenged by Democrat Kim Olsen. Now, you may be thinking, "What's Agricultural Commissioner have to do with me?"
The short answer is: well, a lot more than you'd think.
About a half-hour west of Waco, in McGregor, you'll find the Mill-King Market and Creamery. The creamery sells milk to folks from all over the area.
Shorty Miller's giving what she calls "the $3 tour" of the place. You'll notice you don't hear any cows, which, at a dairy farm, may strike you as odd.
"A content cow, they don't comment," Miller said.
Places like this or a farm are probably what comes to mind when you hear agriculture commissioner.
But Gene Hall, with the Texas Farm Bureau, said the ag commissioner heads up the Texas Department of Agriculture.
"It is a regulatory agency," Hall said.
The TDA and the commissioner do a lot of things that you'd expect, he said. Things that directly affect how Shorty Miller and other Texas food producers do business.
Take, for instance, pesticides.
TDA has to make sure that pesticides are applied safely. They also inspect facilities like grain silos and warehouses.
Hall said the Department of Agriculture also certifies organically-produced products, provides financial assistance to needy farmers, and grants funding for developing new technologies — all while advocating for policies that'll help Texas farmers and ranchers.
"It's also in charge of weights and measures," Hall said.
More specifically, the TDA and the ag commissioner make sure that anything sold by the pound is weighed accurately.
Even milk from Shorty Miller's surprisingly-quiet cows.
"Milk is sold by the 100 pounds, which is about 12 gallons," Miller said.
Miller said products like milk can foam up when being poured into a container, or two people may fill the same container differently.
The ag commissioner's agency makes sure everyone's measurements are accurate before their products are trucked off to market in Texas cities.
So, when the farm's products arrive in city grocery stores, the ag commissioner's oversight helps consumers like chef Mike Thompson, who owns a private catering business and cooks for some of Austin's wealthiest foodies.
"This evening, they're going to be doing a grilled chicken," said Thompson while at the grocery store picking up items for a special dinner. "They're going to be doing a corn pudding, coleslaw, some baked brie, seasonal berries, bacon-wrapped shrimp."
Thompson starts in the produce section.
Here, Thompson's relying on the ag commissioner's consumer-protection arm, which ensures scales in stores accurately calculate weights and prices.
"So PLUs are all up on the board — 4816, I believe, is sweet potatoes. I think I read that right. In you go, so 2.25 pounds come out to about $2.20 — that's not too bad," Thompson said.
The ag commissioner's consumer-protection arm also extends to regulating the fuel at gas stations, measuring how much gas gets sucked out of an underground tank and is pumped into your car.
"TDA wants to make sure that if you (are) in Texas, (and) as a consumer purchase a gallon of gas for $2 that you actually get a gallon of gas," said Paul Hardin, president and CEO of the Texas Food and Fuel Association.
Hardin said the accuracy and security of these pumps benefit the convenience stores and gas stations his organization represents.
He said when there is a complaint or issue with the quality of fuel, the state agency can shut down an owner's pumps for weeks at a time.
"I'll be real honest, the fuel out front is just to get you in the store. They don't make a lot of money off the fuel. It's so that you come in the store and buy the high-margined items," Hardin said.
Whether you're running your own farm, shopping for dinner, or fueling up the car for the weekend, the ag commissioner's responsibilities touch the most ordinary aspects of your life in the Lone Star State.
Ryan Poppe can be reached at rpoppe@tpr.org or on Twitter @RyanPoppe1