San Antonio Officials Visit Businesses To Ensure COVID-19 Compliance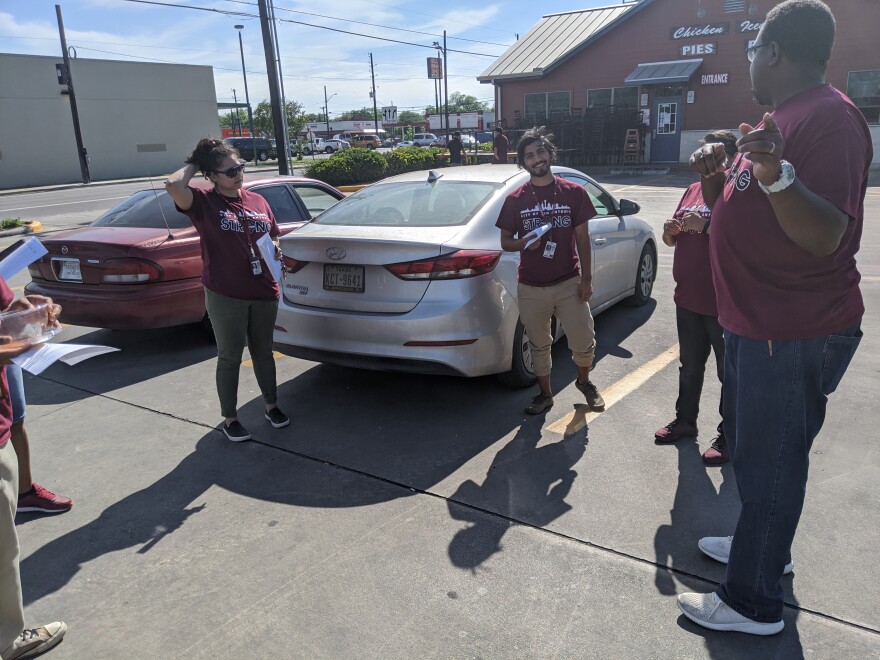 On a bright recent afternoon, Derek Taylor, senior management coordinator for San Antonio, gathers his team in the parking lot of a local Bill Miller restaurant. As cars line up in the drive-through nearby, the six community health and prevention team members debate the merits of the city-provided hand sanitizers.
"That green one feels weird," said one employee.
"Wanna switch?" asked Vincent Escobedo, another team member. He prefers the clear sanitizer with the foaming pump.
"This stuff is like gold," he said.
For the past month teams like this have distributed health information to residents in low-income and "at risk" areas across the city.
The concern is that areas that lack good access to healthcare are especially vulnerable. The city had contractors put out 6,000 door-hanging fliers in areas they believe lack internet access. The hangers list information about COVID-19 and the phone number of a hotline.
But Taylor's teams are going to businesses to ensure that they are in compliance with COVID-19 guidelines.
"If you're open... That you're social distancing. That you're wiping down your items. That you're doing all the things the mayor recommended in his declaration," said Taylor.
Many businesses aren't supposed to be open and the ones that are, aren't supposed to be doing certain things. Tayor spoke of a local meat market that was selling tacos and letting people dine in.
"You definitely should not be doing that at all," he said. "They had like 30 people in the store. So we walked them through the process and they said, 'We'll fix it."'
"We're the educational piece, then there's an enforcement piece."
San Antonio Police have issued 299 warnings and four citations to area businesses out of compliance.
After the meeting at Bill Miller, the team breaks up into three groups of two. Vincent Escobedo and Andrew De Leon drive further south. They jump out in a shopping center on Nogalitos Street.
Both men started at the city's hotline and transitioned to this.
"We're gonna do that business over there. The auto insurance," said Escobedo pointing across the busy street.
"Remo or Remco?" asked De Leon
They enter a local car insurance company Remco to a surprised associate finishing up with a client.
"Hello, we're with Metro Health. We're just stopping by all the open businesses and seeing how it is going as far as the preventative measures your taking for the virus — like social distancing."
The employee, Nicole, looked back a little shocked
"Don't worry, we're not here to shut anyone down."
De Leon said a number of businesses have thought they were there to hand out a citation or reprimand them in some way. They are just filling out a survey and distributing information, even to the businesses that are non-essential but violating the city's declaration.
Escobedo filled out the questionnaire on an iPad while De Leon asked the questions.
"So, then do they all get provided like sanitizer, gloves?" asked De Leon.
The whole survey takes about five minutes and then they hand Nicole two fliers, one for employers and one for employees.
Satisfied, the two men head out to the next business. The city's 12 team members have visited more than 1,700 businesses in around a week. The hope is employees educate their clients and both groups take the health information into their homes.
Paul Flahive can be reached at Paul@tpr.org or on Twitter @paulflahive.
TPR was founded by and is supported by our community. If you value our commitment to the highest standards of responsible journalism and are able to do so, please consider making your gift of support today.