Fronteras: Oilfield Theft, Pipeline Battles And Honoring A Hero For Texas Independence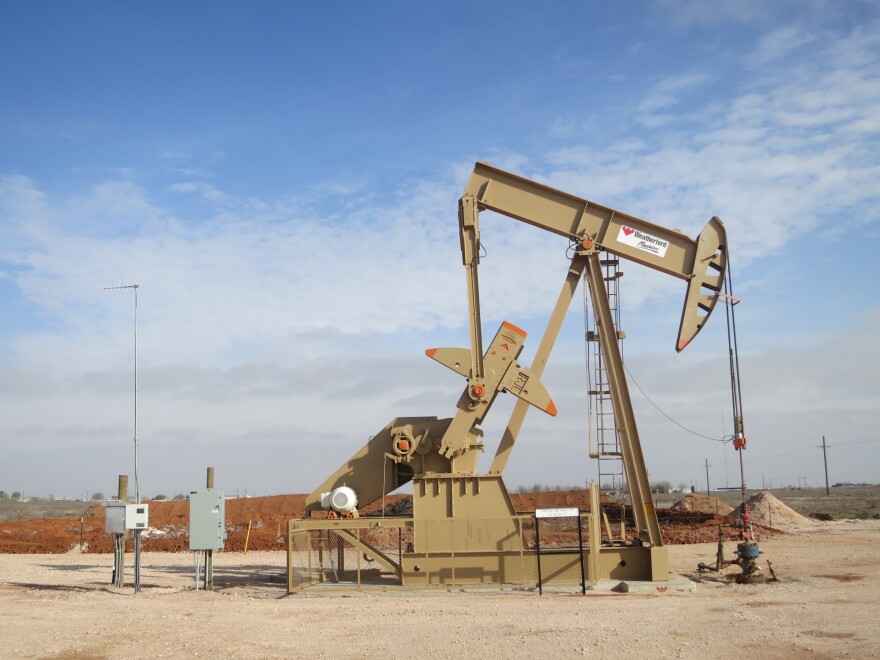 On Fronteras:
-- Energy companies navigate fluctuating crude oil prices. Who will survive?
-- Where is all the stolen oil-field equipment headed?
-- Trucking oil and gas is leading to treacherous travel on Texas roads.
-- The building of energy pipelines creates jobs, but how will that affect the environment in Texas and New Mexico?
-- A new monument honors a Mexican who signed the Texas Declaration of Independence and fought for Tejano rights
Confusion Reigns As The Price of Oil Goes Up and Down
It was another wild, confusing week for energy producers trying to stay profitable, even as the price of oil dropped below $50 a barrel and then rose again.
The United Steelworkers oil refinery strike spread to 15 sites, becoming the largest strike of its kind in more than three decades.
The Saudi Arabian oil minister told reporters the demand for oil was going to climb, implying that the price would go up too. However, U.S. stockpiles of oil are also reportedly at their highest level ever since 1982.
And while that might be true, layoffs are becoming more and more common.
Oklahoma-based Chesapeake Energy became one of the latest producers to announce cutbacks, saying it had slashed its budget 26 percent.
Jim Krane, an energy expert at Rice University's Baker Institute in Houston says it will be harder for small producers to survive.
Stolen Oil Field Equipment Smuggled To Borderland Mexico
http://marfapublicradio.org/blog/theft-in-the-oilfields-of-texas-and-new-mexico-traced-to-borderland-mexico/
Marfa Public Radio's Lorne Matalon reports that as the price of crude oil dropped, thousands lost their jobs in the oilfields of Texas and New Mexico.
Oil field equipment theft has always been a problem, but now investigators say laid off and disgruntled employees stealing oil, tools, piping and copper wire are making matters much worse.
The issue is so severe that the FBI has a team working full-time to stem the flow of stolen oilfield equipment — which, in at least one case, was smuggled to borderland Mexico.
Amidst The Gloom, Two Natural Gas Pipelines On Track For West Texas
http://marfapublicradio.org/blog/west-texas-to-mexico-pipelines-on-track-for-2017-finish/
Despite the big picture stories, and the fact that energy production is down, it's not all doom and gloom. A Dallas-based company is looking to build two sizable natural gas pipelines in West Texas. Marfa Public Radio's Travis Bubenik reports that the pipelines would export gas from the Permian Basin across the border to Mexico.
Trucking Oil Leading To Treacherous Travel On Texas Roads
http://tpr.org/post/heart-eagle-ford-shale-roads-perdition
Texas Public Radio's Eileen Pace went to DeWitt County to experience what drivers there face on the roads.
Gas and oil production in the Eagle Ford Shale has produced a windfall for the Texas economy — and along with it, hazardous roads for drivers. Local officials say they need the legislature's help to keep up with repairs.
DeWitt County Judge Darryl Fowler has been lobbying the Texas legislature, and thinks he has support for legislation that would keep money earned from mineral rights in the county, where it can be used to repair roads. Fowler says members of the County Judges and Commissioners Association of Texas are putting their muscle behind the bill.
Are Pipeline Jobs Worth Damaging The Environment?
http://kunm.org/post/pipeline-plan-ignites-controversy
Oil pipeline plans in New Mexico face the same road hazard problems but does the prospect of jobs outweigh the cost of environmental damage?
For more than eight decades, companies have drilled for natural gas in the San Juan Basin. Thousands of miles of gas pipelines cross northwestern New Mexico, but as KUNM's Laura Paskus reports, plans to transport crude oil out of the same area are raising questions about new development there.
Mexican Who Led Texas Revolution Honored with Monument
http://tpr.org/post/almost-150-years-after-his-death-navarro-gets-his-spot-state-cemetery
You've heard of Stephen F. Austin and Jim Bowie. This week, at the State Cemetery in Austin, officials dedicated a monument to another hero of Texas Independence the public knows less about. Texas Public Radio's Ryan Poppe has more on why many believe this recognition of José Antonio Navarro is long overdue.
Joey Palacios, this week's guest host at Fronteras, is a reporter at Texas Public Radio in San Antonio. The show was produced by TPR News Director Shelley Kofler and Alexis Yancey