Veterans Day In San Antonio: 'This Is The Place To Be'
U.S. Representative Lloyd Doggett attended the parade.
Dominic Walsh | TPR News
Thousands from Military City, U.S.A. — and beyond — lined the streets of downtown Saturday for a parade honoring Veterans Day. About 100 floats wound their way from Avenue E and Houston Street to Milam Park, where a small festival was held.
Area ROTC middle and high school students participated, as did local representatives like District 9 City Councilman John Courage and U.S. Representative Lloyd Doggett.
The parade is in its 20th year. Retired Marine Corps Maj. Gen. Angela Salinas, CEO of Girl Scouts of Southwest Texas, was named grand marshal. She told reporters she was honored, as a woman, to be named the face of this year's veterans' parade.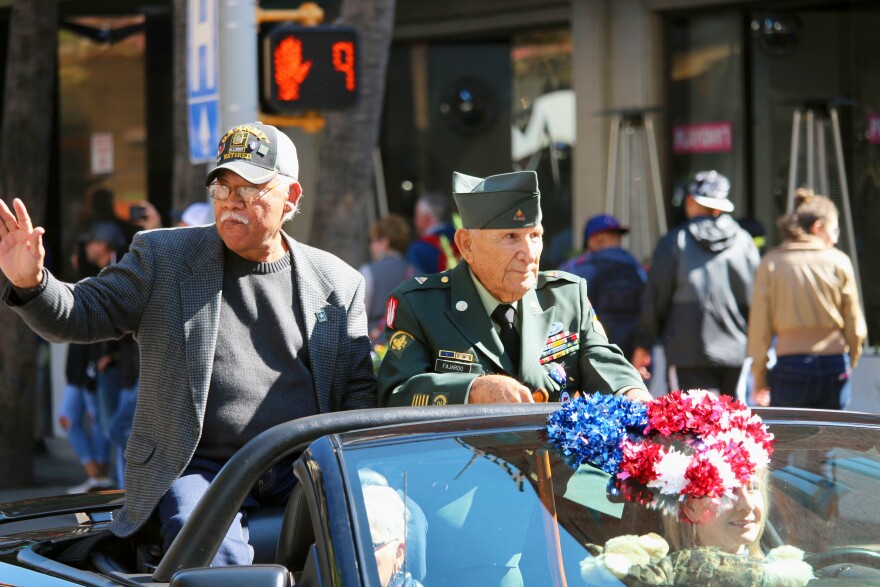 A Family Affair
For many in San Antonio, Veterans Day is as much about those who served as it is about those who support them. The city has one of the largest concentrations of veterans and military families in the country — and is a popular retirement destination for those who have separated from service.
Just before noon, hundreds of people gathered near the federal courthouse, craning to see all the bright uniforms, instruments and military vehicles. The drones of bagpipes and calls of drill teams reverberated between buildings.
Jolene Bennett waited with her grandson in the shadow of the Alamo. Her son, an Army soldier, is currently stationed at Fort Benning, Georgia, and her father was a World War II medic who served under Gen. George Patton.
Since Bennett was a teenager, she said she was steeped in her dad's military history.
"He's already passed, but he's shared with me all the stories about World War II," she said. "He was in six different campaigns. His last tour of duty was they had to go through all of the concentration camps and bury everyone — and basically clean up all the experiments. So it was a lot."
Bennett said she came out to the parade because it's important for military families to unite and support each other — under one cause.
"I think it's important," she said. "When your family's in a cause and it's an honorable one, then you support the people. Even the ones you don't know."
The same holds true for Veronica Bevans, a retired Air Force Master Sgt. who served in Desert Storm. Every year, she travels to San Antonio from Louisiana to celebrate Veterans Day because, she said, "This is the place to be."
Bevans said she's noticed that veterans now get a better reception than they did in generations past.
"What's really great is that I have my own children here today to experience it for themselves," she said. "Show 'em just how important the veteran population is and how they need to be respected and honored for what they do — and the families too."
Bevans explained she chose to deploy and needed a lot of support from loved ones back at home in order to get through it. She gestured at her daughter, Victoria Major, who was standing close by.
"She was young — both her and my son. So I had to leave them behind. As a mother and a veteran, when you have to choose one duty over the other, it's difficult," said Bevans.
Now, all grown up, Bevans' daughter said she's months away from signing on the dotted line and enlisting in the Air Force.
"I know she always tells me that she doesn't want me to follow in her footsteps. But this is the part where it's like, 'This is my path. This is what I was meant to do,'" Major said. "She's inspired me, helped me along the way. Couldn't ask for a better rock."
A Very Different Reception
Bevans appreciated the public support on display at the parade.
"Especially for my Vietnam brothers and sisters," Bevans said. "The fact that they're finally welcoming them home — because they didn't have this when they came home."
Public perception of service members has shifted significantly over the past few decades. U.S. military involvement in Vietnam was a deeply divisive issue in the '60s and '70s, and returning soldiers often bore the brunt of public outrage.
walsh_s1_vets_day_parade.mp3
TPR's Dominic Anthony Walsh spoke to veterans who, upon returning from Vietnam, received a much different reception than they do today.
Carlos Mugica was drafted in 1966 and served as a squad leader for the Army in Vietnam from 1967 to 1968. After their deployment, Mugica and other soldiers received a less-than-warm welcome.
"It was an experience that I don't think anybody would like," Mugica said. "They were giving us the f-word, throwing us the finger, 'You S.O.B.s,' and this and that."
Mugica said attitudes towards veterans have improved over time, and he now expects only one thing.
"All I can say is we need to be treated with respect," Mugica said. "Doing the job we did was very hard. To survive was very hard."
Steven Comacho has served in the Navy for more than 20 years, and is now 17 months away from becoming a veteran. He sang the national anthem in Milam Park on Saturday.
Comacho also serves as a recruiter. He encouraged the newest generation of military members to learn more about veterans like Mugica.
"Learn a little about the branch of service you have chosen to represent," Comacho said. "Because there are an unlimited number of great stories about great people who've made great sacrifices so that we can enjoy all the things we have today."
To those who previously sacrificed, Comacho said, "Thank you."
Carson Frame can be reached at Carson@TPR.org and on Twitter at @carson_frame, and Dominic Anthony Walsh can be reached at Dominic@TPR.org