Border Businesses And Politicians Question Border Closure While The Rest Of The Country Reopens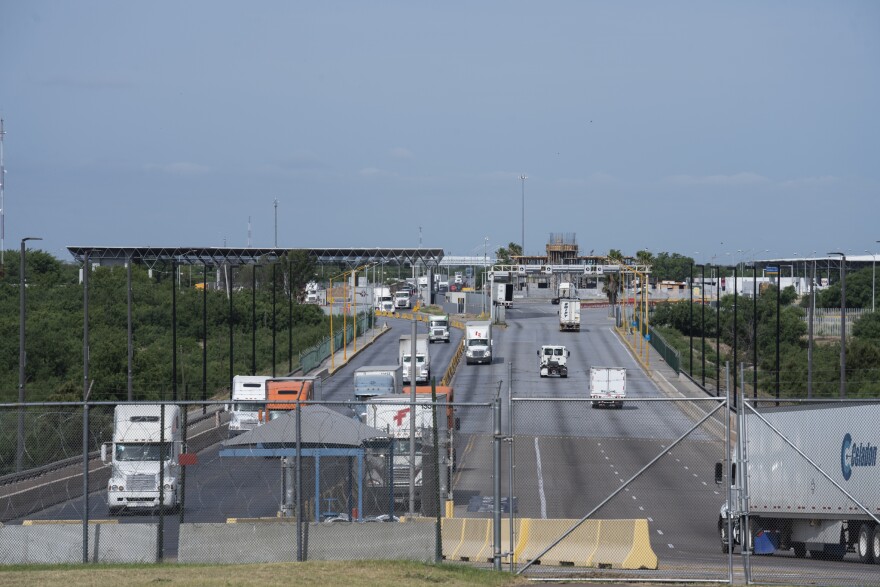 U.S. borders will be closed to all but essential travel for another month.
The federal government reached an agreement Tuesday with Mexico and Canada to extend the border closure that has been in effect since the end of March.
During that time, local businesses along the Southern border have been suffering.
"We hope that will be the final decision to extend because I don't know frankly how many businesses will survive if it goes on any longer," said Dennis Nixon, CEO of Laredo-based IBC Bank.
Right now, cross-border travel is only allowed for essential work, including those involved in trade, as well as some students, military personnel, and diplomats.
Ricardo "JR" Arce, the owner of a T-shirt printing shop in downtown Laredo, had desperately been hoping the restrictions would be lifted this month.
"It's hard because our customers come from across the border, and it's hard because it's hardly people coming in and hardly people coming out," he said last Saturday at his empty shop.
The 34-year-old had just opened the store with the help of his family in February before having to close for nearly two months. But rent was still due that Saturday — a total of over $6,000 for three months.
"We invested everything we had, and we're afraid to lose it," he said.
The Department of Homeland Security on Tuesday said in a statement that it's trying to protect the health of U.S. Citizens. Mexico currently has nearly 160,000 confirmed COVID-19 cases while the U.S. has more than 2 million.
But local leaders up and down the border have questioned why the closure is being enforced where the economy relies on cross-border travel, while the rest of the country reopened — with little guidance from the White House.
For Laredo Mayor Pete Saenz, the closure made sense when the pandemic first hit North America. But now, it's overkill.
"We need to have a little more faith in the people's judgment especially now that they are somewhat trained and aware of the risks and dangers of COVID-19," he said.
The Texas Border Coalition, including Saenz, and IBC Bank sent letters to the Department of Homeland Security last week calling for U.S. borders to be reopened.
"There's no reason for us to not open these ports of entry back up if we're opening up the rest of our country and following the same guidelines," said Monica Weisberg-Stewart, a McAllen businesswoman and chair of the coalition's immigration and border security committee.
Dr. Jason Rosenfeld, assistant director of global health at UT Health San Antonio, said restricting social mobility has generally proven to be effective in stopping the spread of the coronavirus. Some studies showed states and towns that instituted stay at home orders found a 48.6% decrease in the number of weekly cases after three weeks.
Texas let its stay at home order expire in late April, and local officials across the state are now urging Governor Greg Abbott to allow them to enforce public health measures such as face mask requirements.
But when it comes to closing international borders, past studies have been inconclusive.
"There have been a few modeling studies that have looked backwards at past viral outbreaks like the Middle East Respiratory Syndrome, or the previous SARS outbreak, Zika and Ebola," he said. "And ultimately, what they find is, there's inconsistent impact."
Rosenfeld said he thinks both the U.S. and Mexico will have to collaborate on ramping up testing and contact tracing to safely reopen the border.
"If that communication is not there, then unfortunately, I can't see any way for us to successfully open that border and do it in a way that is healthy and maintains the well-being of our population," he said.
Congressman Henry Cuellar, a Laredo Democrat, has met with officials on both sides of the Southern border. He said Mexican border officials have been conducting temperature checks and following health recommendations.
He thinks the U.S. could step up its own efforts, such as arming border patrol with thermometers, to reopen the border.
"I know we got to find a balance between the health of the individual and the health of the economy," he said. "I think we can take steps where somebody comes across, we check their temperature, we can make sure that they're wearing a mask and follow all the protocols that we follow here."
Before the pandemic, more than 18 million Mexicans would spend an annual net of about $19 billion at U.S. restaurants, hotels, stores and malls, Cuellar said. Saenz estimates that 50% of border economies stem from Mexican shoppers.
Businesses on the border had already faced a decline in customers from violence in Mexico and the peso devaluation. But this is the first time J. Malik, whose family has had a perfume store in downtown Laredo for nearly 30 years, has lost all revenue.
"It had hurt us over time, but we learned to survive," he said. "This pandemic has just hit us hard — harder than ever."
He decided to close the shop out of health concerns and has only gone back to clean it on the weekends. Trying to make ends meet, he's praying experts control the pandemic or find a vaccine.
In the meantime, he said he understands the need to close the border through at least July 21st.
"It's a necessary evil," he said.
Maria Mendez can be reached at maria@tpr.org and on twitter @anxious_maria.