Cancer Survivor Shares Story To Help Boost HPV Vaccination Rate In San Antonio
San Antonio has the lowest rate of HPV vaccinated children of any major city in Texas, but a cervical cancer survivor is trying to change that by telling her story.
Liz Kapeel, 25, was diagnosed with cervical cancer in November of 2016. A recent graduate of Texas State University, she had just embarked on her life as an adult and was being treated for a cancer that the American Cancer Society estimates will kill more than 4,000 women this year.
"It was awful. It took about three months," said Kapeel about the treatment. "I had radiation, external (and) internal, and chemotherapy, and just the way it broke me down emotionally (and) physically, is not something I would wish on anyone else."
Kapeel survived, but not without physical and emotional scars. Among them, she can no longer have biological children.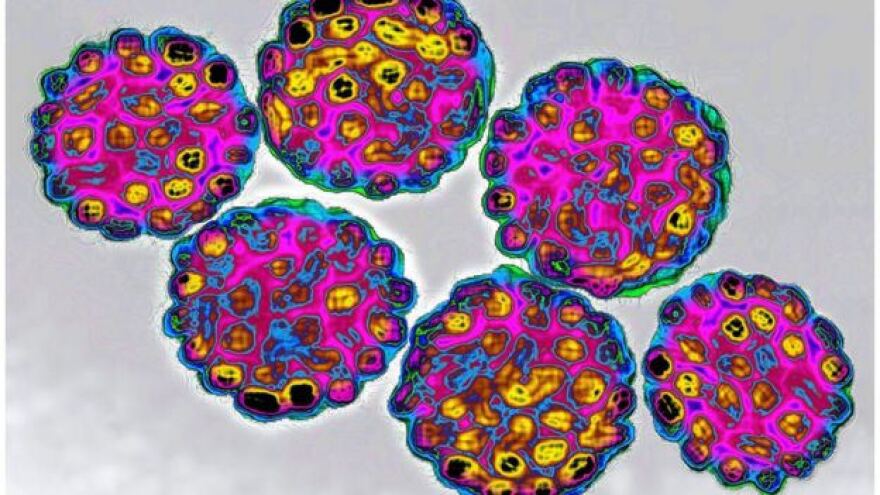 Her cervical cancer was caused by a strain of HPV that could have been prevented with a vaccine, but the program director for The Immunization Partnership in San Antonio Cherise Rohr-Allegrini said the rate of HPV vaccine coverage in the city is not great.
"We're lower than the nation, but we're about three or four points higher than the state, and that's because in the rural areas they're not getting vaccinated as high. We're lower than the other major cities in Texas, though," Rohr-Allegrini said. "So we're looking at vaccination rates around fifty percent, overall. Lower for boys, higher for girls. We want to reach eighty percent to fully protect our population."
She said some parents may hesitate to get their kids vaccinated against HPV because they think it's new.
"But it's not actually new," Rohr-Allegrini said. "We've been studying it since the eighties. By the 1990s, they were doing tests on it. It was licensed in 2006.
"So it's been out for 12 years now. But for some people that's not like the measles vaccine or the polio vaccine that's been around for a long time."
She added that some parents resist because HPV can be sexually transmitted.
"Because they hear 'sex' and 'oh, my child's not going to have sex,' but there are other ways to get it, so it's not just sexual activity," Rohr-Allegrini said. "It's anything intimate that involves touching, and kids don't call that sex, but that can transmit the virus as well."
The HPV vaccine was available when Liz Kapeel was a teenager, but her mom didn't consent for her to get it. She got the virus. She got cancer.
"I try not to get too upset because the only person I would get upset with is my mom because your parents are the ones who are supposed to get you vaccinated," she said. "But I know my mom. She feels sorrow for not being more informed and not getting me vaccinated because she saw exactly the repercussions that came from that."
Kapeel urged pediatricians to adjust the way they talk about the vaccine to parents.
"Just completely disassociate it from … being associated with a sexually transmitted virus because no one wants to think of their 11- or 12-year-old having sex, and that's not what it's about," she said.
Kapeel said it's about preventing cancer. Cervical cancer in women. Oropharyngeal cancer in men. That's why doctors now advise that both girls and boys should get the vaccine when they're in middle school. At that age, kids get two shots six months to a year apart, and their body will then build up immunity against HPV.
It's Rohr-Allegrini's job to increase the number of San Antonio kids who get the vaccine, but she's also a mom. Her advice as a professional and as a mom is the same.
"Get vaccinated," she said.
Bonnie Petrie can be reached at bonnie@tpr.org or on Twitter @kbonniepetrie