'Time Waits For No One': UTSA Moves Ahead With National Security Collaboration Center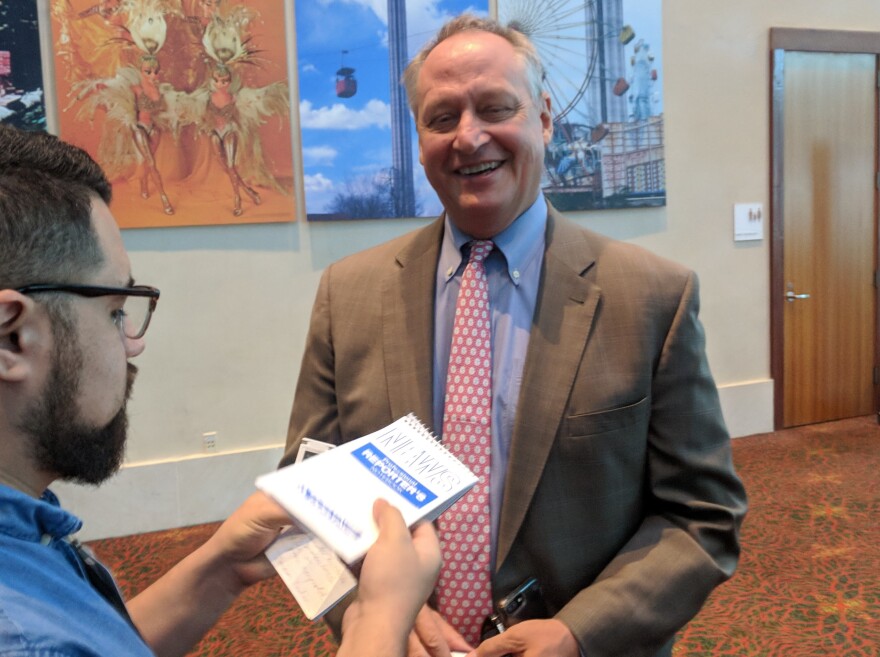 Updated Aug. 17.
The University of Texas San Antonio is standing up a virtual National Security Collaboration Center while they wait for a physical building, said UTSA president Taylor Eighmy during a speech Tuesday at the Cyber Texas Foundation's annual conference downtown.
"Time waits for no one," Eighmy said. "If we're in the business of building an 80,000 square foot building downtown, why not get those relationships up and running as intended ahead of it so it's ready to go into our new building in two years or so?"
The staff is taking over an entire floor of an existing building — about 25,000 square feet.
"We already have 19 NSA scientists and engineers who are jointly tasked with us, who come and work on our campus," Eighmy said.
According to a school spokesperson, UTSA will not be moving those federally funded scientists to the new floor, as initially indicated, but instead the floor will be used for new growth.
The NSCC has been "in business" since April when the school announced it was trying to find partner tenants. So far, it has roped in nine tenants, including defense contractors Raytheon and Booz Allen Hamilton. The school is pursuing 11 others.
​In his speech, Eighmy talked about the university's future in cyber. The school has been designated a center for academic excellence from the National Security Agency in four areas, including information assurance education, information assurance research, cyber defense and, most recently, cyber operation fundamentals. UTSA also consistently ranks high on lists for those seeking degrees in cyber security.
Building on that, Eighmy said the school has partnered with the Idaho and Sandia (Albuquerque, New Mexico) national laboratories. The two federal labs are at the forefront of protecting the country's power grid and other infrastructure from cyber attacks.
Paul Flahive can be reached at paul@tpr.org or on Twitter @paulflahive
CLARIFICATION:The story has been updated to reflect that UTSA will not be moving federally funded scientists to the new floor.