April 15: San Antonio Officials Warn Against 'Arbitrary' Reopen Dates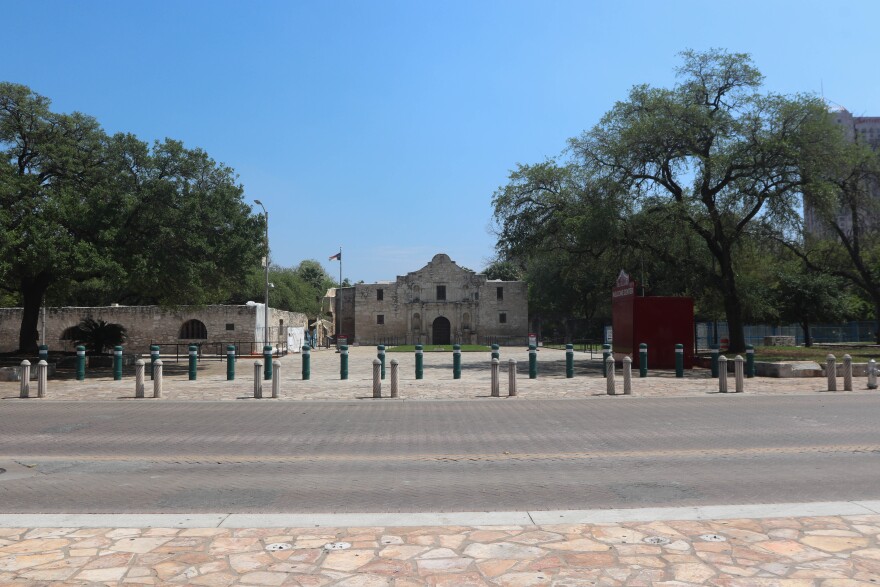 This Post is Archived: Find the newest information on COVID-19 in San Antonio at the links below.
Texas Public Radio is updating the latest information on COVID-19 in the San Antonio area, along with how local businesses are adjusting, how you can help those in need and what you can do to stay entertained at home. 
Other NPR stations that are part of The Texas Newsroom are also live-blogging, including Houston Public Media,  KERA in Dallas and KUT in Austin. 
The statewide coronavirus hotline is 2-1-1, and San Antonio's Metro Health hotline is 210-207-5779.
Here's what we know …
Wednesday, April 15
6:15 p.m. — Confirmed cases jump to 890
There are now 890 confirmed cases of COVID-19 in the San Antonio area — that's an increase of 75 since yesterday.
There were also four more deaths reported that are related to COVID-19. A total of 37 people have died in the San Antonio area from the illness.
The Bexar County Jail reported that there are two more people in the facility who have tested positive for COVID-19, which brings the total to 10.
Officials with the City of San Antonio and Bexar County warned against "arbitrary dates" of when the city, state and country could reopen. Mayor Ron Nirenberg and Judge Nelson Wolff said they are working on plans to open entities in phases.
Whenever that may happen, Wolff said, people should still do everything they can to stay safe and maintain social distancing as much as possible.
Several predictive models have been created based off current conditions in order to estimate San Antonio's potential peak.
Assistant City Manager Dr. Colleen Bridger warned that making it through the peak doesn't mean the pandemic is over.
"San Antonio will continue dealing with COVID-19 for months after the peak and we should continue to practice social distancing and good hygiene," said Bridger.
6 p.m. — Watch today's daily briefing
4:30 p.m. — Texas judge to open up mail-in voting
The Texas Democratic Party sued state and local election officials last month in an effort to get a district court to clarify state law. KUT reports a district judge in Travis County will open up mail-in voting during the COVID-19 pandemic.
Bexar County Commissioners court will hear from elections administrator Jaquie Callenan Tuesday about how it can provide more vote-by-mail support for the July 14 runoff elections.
The vote-by-mail issue has been a contentious one since Gov. Greg Abbott delayed the primary runoffs from late May to July due to COVID-19.
Wednesday a Texas state judge said he would issue an injunction allowing Texans worried about contracting the disease to vote by mail.
Democratic County Commissioner Justin Rodriguez has asked Judge Wolff for the Bexar County Elections department to brief the court next Tuesday.
"Knowing that full cost is what I'd like to know on Tuesday, what the capacity is for us to handle internally and what we may need to do to partner to get this done successfully," Rodriguez said.
Texas Attorney General Ken Paxton issued a statement ahead of the ruling saying the vote-by-mail exclusion carved out for the disabled and sick did not apply to COVID-19.
4:10 p.m. — DHS to waive laws in order to build border wall during the pandemic
The Department of Homeland Security is waiving dozens of laws to build the border wall in the Rio Grande Valley during the COVID-19 pandemic and critics say Texas families and wildlife will pay the price.
DHS posted in the Federal Register today and said that it is necessary to waive certain laws, regulations and other legal requirements to quickly build the border wall in Starr County. Some of the laws that will be waived include the National Environmental Policy Act, the Endangered Species Act and the Safe Drinking Water Act.
The Texas Civil Rights Project tweeted a photo yesterday that shows surveyors on the property of one of their clients whose home is in the path of the border wall.
BREAKING: Border wall construction continues despite nationwide demands to halt immediately.

One of our clients whose home is threatened by the wall sent us this photo today of contractors surveying the land near her home in Starr County. https://t.co/unXc8XwOly pic.twitter.com/QikAfzVRKX

— Texas Civil Rights Project (@TXCivilRights) April 13, 2020
U.S. and Customs and Border Protection, along with the U.S. Army Corps of Engineers, awarded a $179 million dollar contract to build 15 miles of border wall in Starr County in early March.
Border wall construction is expected to begin this year in Rio Grande City, Roma, Escobares, Salineno and La Grulla.
Tuesday, April 14
10:51 p.m. — SAFD firefighter among latest to test positive
The San Antonio Fire Department confirmed a second firefighter has tested positive for COVID-19. Both firefighters were assigned to the same station but worked different shift schedules.
Contact tracing for the second firefighter is underway and the crew that worked with the individual has been instructed to self-isolate at home.
According to a statement from SAFD Chief Charles Hood, the department will immediately quarantine those at high risk of being exposed to the virus as contact tracing results are received.
9:20 p.m. — 1 more Bexar County jail inmate tests positive
An additional individual in custody at the Bexar County Jail tested positive for the virus, bringing the total number of inmate cases to eight.
The inmate was initially relocated to the infirmary for medical observation after developing a fever, where they remained pending lab results.
Recently, all inmates wer e provided surgical masks that must be worn inside the living units and all inmates have their temperatures checked daily by University Health Systems staff.
6:20 p.m. — 815 cases confirmed, data offers information on San Antonio's peak
Officials with the City of San Antonio have confirmed there are now 815 confirmed cases of COVID-19 in the area.
Assistant City Manager Colleen Bridger reported new data on Bexar County suggesting that the area's peak could occur anytime between late April to mid-May. She also said the total number of cases could reach anywhere between 1,100 and 10,000 people.
The city of San Antonio is also rolling out an initiative for residents who test positive for the coronavirus and want to quarantine or isolate away from others.
The city has 62 isolation rooms available and has identified approximately 800 more.
"They're located in all corners of the city," said Mayor Ron Nirenberg. "So if someone needs isolation to make sure they keep themselves from their family members [and] vice-versa, we have a screening number."
Residents can call 311 for the screening process to determine if they need isolation, where they can go and potentially arrange transportation to the voluntary isolation room.
10 a.m. — 5 more Bexar County Jail inmates test positive
Officials with the Bexar County Sheriff's Office said they learned five more inmates in custody at the Bexar County Jail tested positive for COVID-19. A statement said that administration workers within the sheriff's office are trying to trace the origins of each person who has contracted the illness.
Seven inmates, two civilian employees and 14 deputies tested positive for COVID-19 as of Tuesday morning. Additionally, one Bexar County Facilities maintenance employee and one University Health Systems Nurse assigned to the jail have tested positive for COVID-19.
In a statement the sheriff's office said all inmates at the Bexar County Jail have been provided surgical masks and all Bexar County Sheriff's employees working at the jail are wearing Personal Protective Equipment.
TPR was founded by and is supported by our community. If you value our commitment to the highest standards of responsible journalism and are able to do so, please consider making your gift of support today.