Fronteras: Poet Laureate Creates San Antonio 'Poetry Exchange'; Rabies On Border; & Latino 'Voz'
Postcards from the exhibit St. Anthony's Lost & Found
Norma Martinez / Texas Public Radio
Postcards from the exhibit St. Anthony's Lost & Found
Norma Martinez / Texas Public Radio
St. Anthony's Lost & Found
Norma Martinez / Texas Public Radio
St. Anthony's Lost & Found
Norma Martinez / Texas Public Radio
Postcard from the exhibit St. Anthony's Lost & Found
Norma Martinez / Texas Public Radio
Postcard from the exhibit St. Anthony's Lost & Found
Norma Martinez / Texas Public Radio
Postcard from the exhibit St. Anthony's Lost & Found
Norma Martinez / Texas Public Radio
Postcard from the exhibit St. Anthony's Lost & Found
Norma Martinez / Texas Public Radio
'The Edgewood Walkout of '68' (2017) Albert Alvarez, collage, ink on paper
Norma Martinez / Texas Public Radio
'The Edgewood Walkout of '68' (2017) Albert Alvarez, collage, ink on paper
Norma Martinez / Texas Public Radio
Jenny Browne
Scott Martin
Jenny Browne
Scott Martin
Arturo Infante Almeida
Jack Morgan / Texas Public Radio
Arturo Infante Almeida
Jack Morgan / Texas Public Radio
Claudio Aguillon
Jack Morgan / Texas Public Radio
Claudio Aguillon
Jack Morgan / Texas Public Radio
This week on Fronteras:
Despite uncertainty surrounding the future of the border wall, security companies are getting a leg up on offering the latest technologies.
Wildlife officials are putting up another barrier on the border — against rabies, that is (2:18).
San Antonio poet laureate Jenny Browne creates a poetry exchange and art display highlighting San Antonio's hidden history (6:48).
A San Antonio art exhibit gives a 'voz' to the Latino immigrant experience (15:05).
Remembering the art historian who created one of the largest collections of Spanish art in Texas (17:19).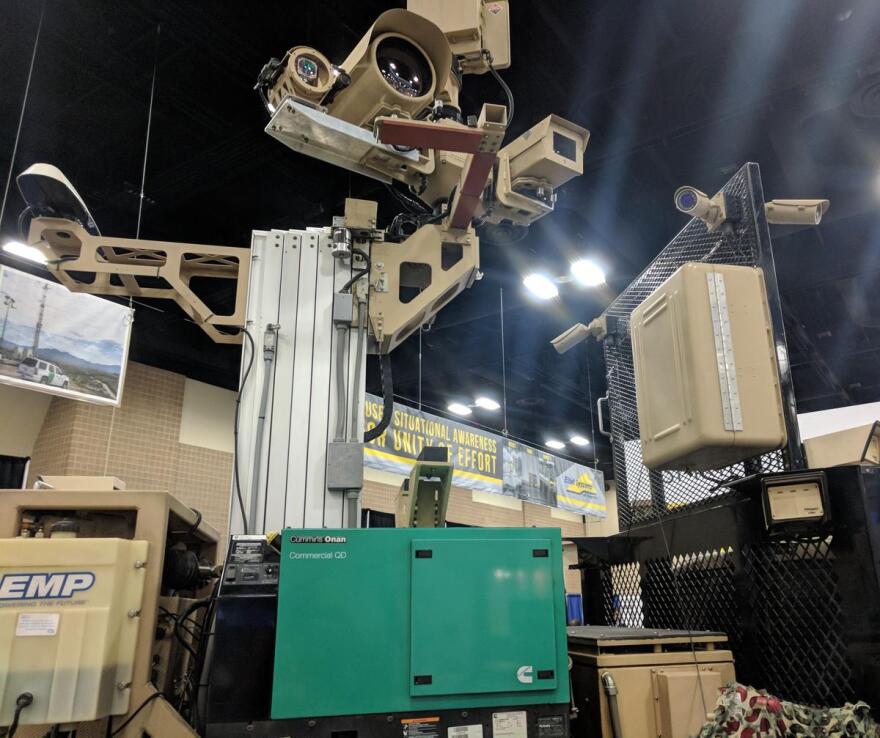 President Trump campaigned on promises of a border wall and increased border security. Whether or not funding for the wall is approved, security companies are using every ounce of technology to get ahead of the competition. Texas Public Radio tech reporter Paul Flahive attended a recent Border Security Expo in San Antonio to bring us this report.
RABIES BARRIER ALONG THE BORDER
For two weeks in January, a Texas agency took to the skies over long stretches of the U.S.-Mexico border. The reason: to drop rabies vaccines in order to vaccinate the region's wildlife. Marfa Public Radio's Carlos Morales reports it's part of an ongoing effort to reduce the spread of the virus in the state.
FRONTERAS EXCLUSIVE: 'ST. ANTHONY'S LOST AND FOUND' POETRY EXCHANGE AND ART EXHIBIT
Jenny Browne is poet laureate of San Antonio. Part of her duties as the city's premiere promoter the written word is to create a signature initiative. To commemorate the Alamo City's tricentennial this year, Browne chose to focus on San Antonio's namesake, St. Anthony. The initiative culminated in an exhibit of art and letters called St. Anthony's Lost and Found, on display at San Antonio's Culture Commons Gallery.
For more about the exhibit, watch and listen to our web exclusive.
LATINO ARTIST GIVES A 'VOZ' TO IMMIGRANT EXPERIENCE
The immigrant experience is being given a voice at a San Antonio gallery dedicated to the Latino experience, the Centro de Artes. Texas Public Radio's Jack Morgan takes us there.
LATE ART HISTORIAN RESPONSIBLE FOR LARGEST COLLECTION OF SPANISH ART IN TEXAS
William Jordan turned Southern Methodist University's Meadows Museum into one of the world's great collections of Spanish art. He then went on to build and influence collections elsewhere, from Texas to Spain. Jordan died Jan. 22 at age 77, and KERA contributor Quin Mathews interviewed and filmed Jordan over the years to bring us this report.
Norma Martinez can be reached by email at norma@tpr.org and on Twitter @NormDog1