San Antonio School Board Election Is Referendum On Superintendent
Opposition to the changes implemented by Superintendent Pedro Martinez is taking center stage during this May's election for the San Antonio Independent School District board of trustees.
He's made some controversial moves since he became superintendent in 2015, putting him at odds with the district's teacher union. It all came to a head last March, when the board voted to let a charter network run one of the district's schools.
Emotions ran high during public testimony the night of the pivotal vote. Teacher after teacher asked the board not to let the Democracy Prep charter network run Stewart Elementary.
Many teachers opposed charter schools on principle, wanting to know how the charter would be held accountable to the public since it's not run by an elected board. They were also worried about a provision in the contract requiring Stewart teachers to become employees of Democracy Prep.
Then, teacher union President Shelley Potter stepped up to the microphone and issued a warning.
"Understand that should you approve this contract tonight our union's fight, the community's fight to protect and preserve public schools that serve all children will not be over. That fight has only just begun," Potter said, with union members applauding behind her.
Martinez began rallying support to meet that coming fight soon after the vote.
"I always said: 'Look, the pitchforks are coming.… Cover our trustees. Support them, because they're coming. I don't know where — every community is a little different.' They're here now," Martinez said at a meeting with business and education leaders in May.
The purpose of the meeting was to explain how the contract with the charter network fit into his vision for the future of the district: a system of schools run by multiple organizations. The traditional school board holds those outside organizations accountable by closing low-performing campuses.
Cities like Denver and New Orleans already have that system in place.
Martinez said after the meeting that he planned to increase the number of schools run by outside nonprofits, but most won't be charter schools. He said Stewart Elementary was a special case because the school was at risk of being closed by the state for low academic performance, and that future contracts would be done differently.
"We are keeping still control of the staff… What we want is values. We want expertise. We're open around autonomy.… And we also want to make sure we have a say so in enrollment," Martinez said, pointing to the CAST Tech school opened in partnership with local industry leaders as a model.
At the time, San Antonio ISD had contracts with two nonprofits and one charter network to run four schools, five if you count a school-within-a-school launched at Highlands High School: Highlands Can Academy, CAST Tech High School and Stewart, Ogden and Storm Elementary Schools.
School Board Campaigns
Fast forward a year, and SAISD now has at least 22 campuses under outside management — almost a quarter of the district.
The teachers union isn't happy about that rapid expansion, and it is using it as a platform to replace the school board trustees that voted for it. The union has endorsed a slate of candidates running against incumbents, including current board president Patti Radle.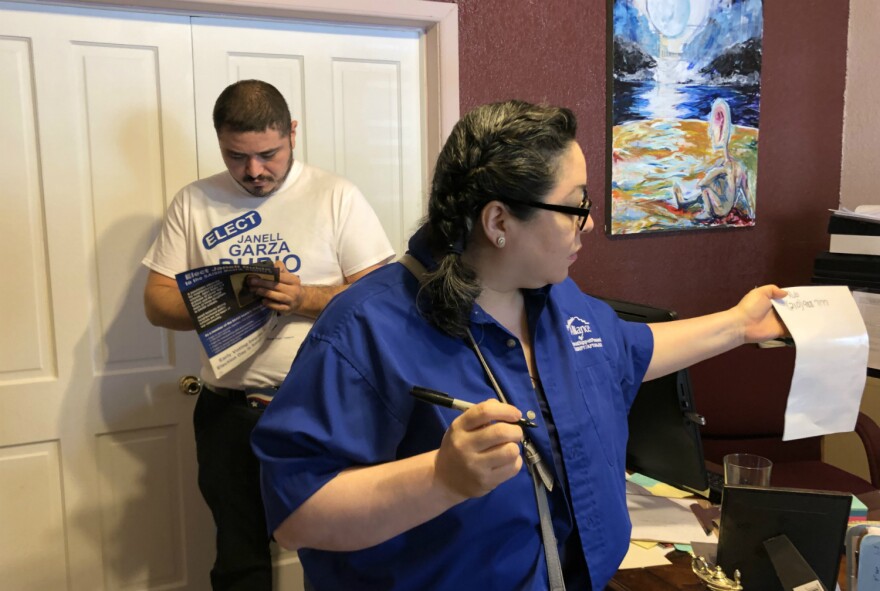 A half dozen union members spent a recent Saturday on San Antonio's West Side campaigning for Radle's opponent, Janell Rubio, a 1999 graduate of Lanier High School with three daughters enrolled at SAISD.
"Let them know it is accountability. We do have transparency. And we are going to be the community voice," Rubio told the volunteers.
Union organizer Katy Bravenec handed out voter addresses and guided them through the talking points to bring up when they knocked on doors.
"Janell will be the first to admit she doesn't know everything about like contract agreements and everything like that. But I think she's made a strong commitment to coming out, listening to the community, listening to teachers, listening to students," Bravenec said.
Rubio said she is running for office to stop the district from "privatizing schools" without people realizing it.
"They're worried and they're scared," Rubio said. "Where are we going to send our kids if we don't have public education?"
Board president Patti Radle said that kind of hyperbole is scaring families.
SAISD has a legal responsibility to educate all of the children that live in the district.
Radle said Rubio's campaign and the union are spreading misinformation about the district's contracts with nonprofits.
"What has been happening lately is very disturbing because it has caused so much confusion in the community to be out there saying that we're selling our schools," Radle said.
At her home around the corner from the Inner City Development Center she and her husband have managed for 50 years, Radle said she believes in the superintendent's vision for the district and is running for reelection to ensure it stays intact.
She said last year's contract with a charter network was a special circumstance, and all of the contracts approved this year are with other types of nonprofits.
"It's important to say that the teachers are ours, with the same contracts. The principals are ours. The campuses are ours," Radle said. "We did not give away our schools."
Radle said that parents won't notice a difference in the day-to-day operations of the school. But the contracts give the nonprofits running the schools authority over the principal, curriculum and budget.
It's up to voters to decide how comfortable they are with decisions made by people they don't elect.
Early voting ends Tuesday, April 30th. The election is May 4th. For more information on the San Antonio school board races, review TPR's voter guide.
Camille Phillips can be reached at Camille@TPR.org and on Twitter at @cmpcamille.