Edgewood ISD Superintendent Resigns Following Sexual Harassment Investigation
The board of managers for the Edgewood Independent School District accepted the resignation of Emilio Castro Thursday night, five weeks after a district employee accused the superintendent of sexual harassment.The announcement of his resignation comes four weeks after the board placed Castro on paid leave and hired Houston-based law firm Rogers Morris and Grover to investigate the allegations.
Castro will remain on paid leave until his resignation becomes effective March 31. After that date, the only payments he will receive from the district are about two weeks of accrued holidays and vacation days.
Roy Soto, the president of Edgewood's board of managers, said Castro and the board "mutually agreed" to the resignation because it was "in the best interest of Edgewood ISD."
Soto said Rogers Morris and Grover had completed its investigation into the allegations of harassment, but the findings would not be released.
"I believe that that's confidential information. Often when witnesses are involved in investigations they really don't want to make any information public," Soto said. "You have to be sensitive to everyone's rights."
Soto said Castro's resignation was not connected to any police charges.
"The allegations certainly were discussed with the individuals who made them, or individual who made the allegations, and again the board felt that it was important — and so did the superintendent — that we should just move to a resignation," Soto said.
Phillip Chavez, the district's chief academic officer, has been named interim superintendent while the board searches for a permanent replacement.
Chavez is a graduate of Edgewood ISD and has been leading the district as administrator in charge since Castro was placed on leave.
"Our goal is to move on as we have done previously," Chavez said. "We have not missed a step. We're still continuing to provide support services for all of our campuses with a main focus on student achievement."
Soto said Edgewood has been moving in a positive direction since the state appointed the board of managers a year and a half ago.
"One person does not define who this district is. We have an incredible, incredible team. And so, we're just excited about the possibilities as we move forward, Soto said."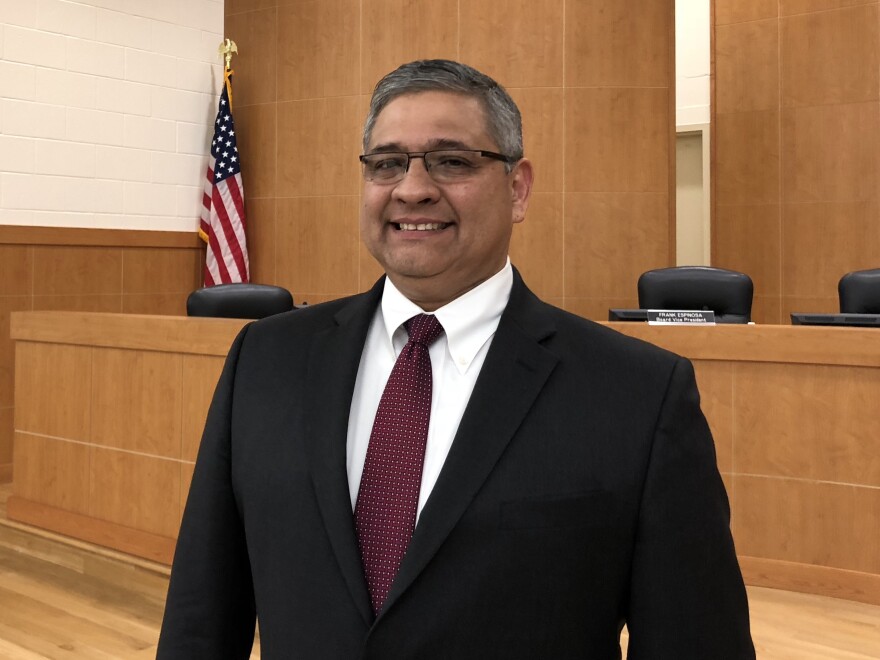 When Castro was first hired to run Edgewood in November 2016, the district of about 11,000 students had been without a permanent superintendent for over a year.
Soto said the Texas Association of School Boards, which helped the board find Castro, will conduct a search for the new superintendent at no cost to the district.
"We negotiated an agreement with the search firm that if a superintendent was not in place after two years that we would be able to benefit from their services for free," Soto said.
He added, "We're very confident that the process will be very swift.
"We should be able to have a superintendent in place when we begin school this fall."
Camille Phillips can be reached at Camille@tpr.org or on Twitter @cmpcamille