Trinity University Hires Community Labs To Expand Coronavirus Testing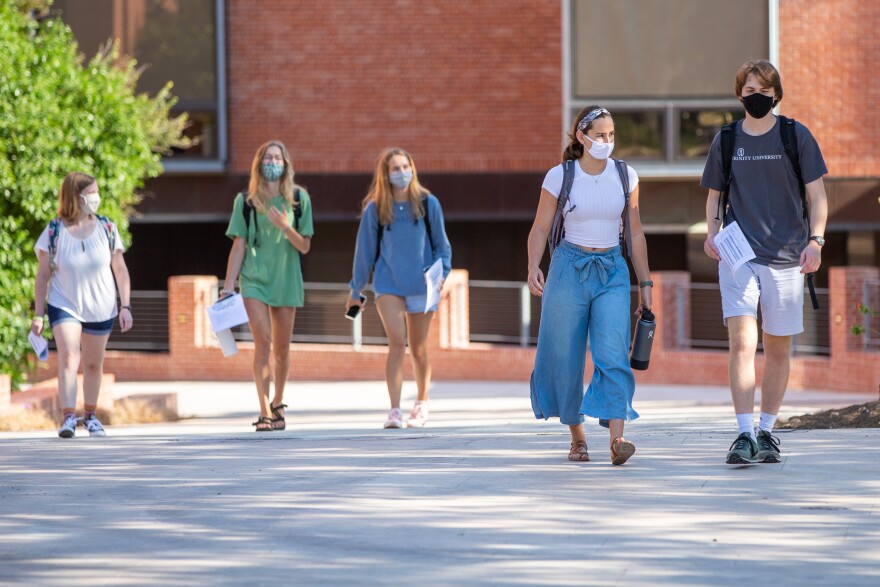 San Antonio's Community Labs has a new partnership with Trinity University to conduct campus-wide asymptomatic testing for COVID-19.
Trinity is paying the new lab to administer tests to all students on campus before they leave for Thanksgiving break. The university is conducting the rest of the fall semester virtually.
"As a highly residential campus where personal connections means so much, finding ways to advance safety are paramount as we seek to return to a more normal mode of campus operations," Trinity University President Danny Anderson said Monday at a news conference announcing the partnership.
Community Labs will also test all students, faculty and staff on campus at the start of the spring semester, and conduct surveillance testing of up to 500 students and employees without symptoms each week.
Anderson said the $35 fee per test is about one-third of the cost for the PCR test Trinity previously used for asymptomatic spot tests.
"They're right near us, so they can promise incredible turnaround time in terms of getting the results back, and it just makes things a whole lot more effective and efficient and accessible," Anderson said.
"When the (fall) semester started, we were really only able to afford 100 to 200 surveillance tests a week," said Tess Coody-Anders, who is overseeing COVID-19 testing for the university. "Because of the Community Labs partnership, we're now going to be able to do anywhere from 350 to 500 individuals per week, which is a third or more of our (current) campus population."
Coody-Anders said the lower cost offered by Community Labs isn't available to most universities across the country.
"We find, as we look around the country and talk to our peers, that there are almost no other communities with the kind of opportunity that Community Labs is giving us here in San Antonio," Coody-Anders said.
According to Coody-Anders, Trinity has 1,600 to 1,800 students living on campus or attending in-person classes this fall. If the university has about the same number of students on campus this spring, they'll pay Community Labs at least $300,000.
Trinity has a smaller student body and higher tuition revenue than large public universities like the University of Texas at San Antonio, which makes widespread campus testing more feasible.
"We're going to have big budget shortfalls this year because we did not have as many revenue sources, but you can't let people be at risk because of that," said President Anderson. "You still have to find a way to cover it so that people can be safe if they're going to be a part of the community."
Three San Antonio businessmen founded Community Labs this fall with a goal of expanding asymptomatic testing in the city. The nonprofit started with a pilot at Somerset Independent School District and has expanded into several other small districts on the South Side.
"What we're trying to do is basically find those silent spreaders out there and get them quarantined and reduce the amount of spread of COVID-19," said co-founder J. Bruce Bugg Jr.
It's partnership with Trinity is its first foray into expansive testing at the collegiate level. Existing partnerships with St. Mary's University and Schreiner University are limited to their athletics programs, according to Mary Ullman Japhet, who does communications for Community Labs and served as Trinity's Entrepreneur in Residence last year.
Correction: An earlier of version of this story misspelled Bruce Bugg's name.