Election Results: Voters Approve Props B, C; Cruz Hangs On; Dems Now Control House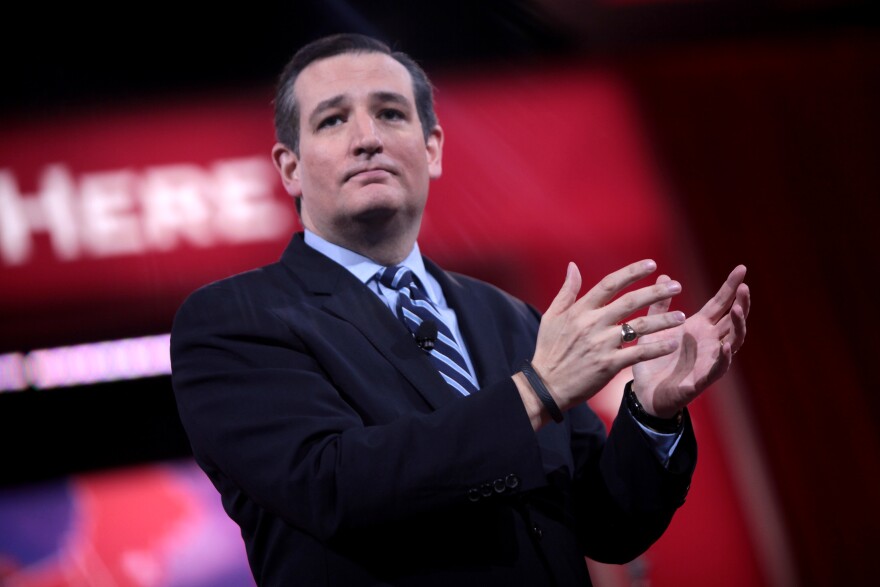 Updated Nov. 7.
A contentious race for the U.S. Senate between incumbent Republican Ted Cruz and Democrat Beto O'Rourke came down to the wire, with Cruz maintaining his seat, while Governor Greg Abbott won his bid for re-election against Democratic challenger Lupe Valdez.
In Bexar County, the district attorney's race resulted in Democrat Joe Gonzales defeating Republican Tylden Shaeffer, with all democratic challengers winning their respective judicial races.
As for the three ballot propositions from the San Antonio fire union, Prop B passed with roughly 59 percent of the vote, which caps the tenure and compensation for future San Antonio city managers. Prop C, which allows the firefighters union to unilaterally declare an impasse at any time and force binding arbitration during labor contract negotiations, also passed. Voters, however, were firmly against Prop A, which would lower the threshold for the referendum process.
Meanwhile, the Democrats added at least 27 seats to take control of the House, while Republicans maintained control of the Senate.
Noon, Wednesday — Gina Ortiz Jones issues a statement about the Congressional District 23 race.
1:51 a.m. — San Antonio charter amendment Prop C passes.
12:10 a.m. — San Antonio charter amendment Prop C still too close to call.
12 a.m. — President Trump congratulates House minority leader
11:15 p.m. — Democrats are projected to gain control of the House.
11 p.m. — Republican Chip Roy defeats Democrat Joseph Kopser in House District 21 race.
10:50 p.m. — Will Hurd delivers a victory speech
10:40 p.m. — With San Antonio charter amendment Prop B projected to pass, Prop C now appears it will pass, as well.
10:31 p.m. — Will Hurd retains his seat in Congressional District 23
10:16 p.m. — With the race in House District 21 race, Republican Chip Roy holds a 51.1 percent lead over Democrat Joseph Kopser.
10:11 p.m. — Bexar County Democrats celebrate wins in all judicial elections
9:31 p.m. — Ted Cruz is projected to maintain his Senate seat
9:29 p.m. — A look at the numbers for SA charter amendment Prop C
9 p.m. — SA Mayor Ron Nirenberg on the expected passage of Prop B
8:55 p.m. — It's official in the Bexar County DA race.
8:37 p.m. — TPR's Brian Kirkpatrick talks to Bexar County GOP spokesman George Rodriguez
8:32 p.m. — In early voting results for Bexar County school bonds. Southside ISD 46 percent in favor Southwest ISD 67 percent in favor
8:25 p.m. — Camille Phillips on Edgewood board of trustees race
8:09 p.m. — San Antonio charter amendments A and C are expected to fail. Prop B is expected to pass. TPR's Joey Palacios talks to Mayor Ron Nirenberg.
8:06 p.m. — Just announced at the Republican headquarters that Ted Cruz leads Beto O'Rourke.
8 p.m. — Joe Gonzales leads by nearly 15 percentage points in the Bexar County DA race.
7:45 p.m. — In District 21, Republican Chip Roy leads Democrat Joseph Kopser, 58.35 to 40.13. Kopser held a slight lead after early voting.
7:18 p.m. — TPR's Ryan Poppe checks in from the District 23 race watch party.
7:14 p.m. — In the Bexar County district attorney race Joe Gonzales is expected to win the race.
7:11 p.m. — Only 1.5 points separates the two candidates in Congressional District 21.
7:05 p.m. — Early voting results for charter amendments has Prop B passing.
7 p.m. — Polls closed
6:40 p.m. — TPR's Bonnie Petrie at the Democratic Party headquarters
6:35 p.m. — TPR's Joey Palacios at the Go Vote No headquarters
Congressional District 23
Winner: Too close to call.
NOTE: Because of a reporting error by The Associated Press, an earlier version of this page incorrectly stated the winner of Congressional District 23. The race is too close to call.
Republican incumbent Will Hurd faces Democrat Gina Ortiz Jones and Libertarian Ruben Corvalan.
This district is one of three Republican-held U.S. House districts in Texas. In 2012, incumbent Democrat Pete Gallego defeated Republican Francisco Canseco by 5 percentage points.
RELATED | CD23: Voter Concerns Are As Broad As The Region Is Vast
In 2014, the seat flipped back to Republicans when Hurd defeated Gallego by 2.1 percentage points. In 2016, Hurd returned the favor narrowly defeating Gallego by 1.3 percentage points.
Congressional District 21
Winner: Chip Roy
The seat, currently occupied by Republican Rep. Lamar Smith, spans northern San Antonio, the Hill Country, New Braunfels and parts of Austin. Smith announced his intention to retire late last year.
Candidates on both sides of the aisle competed in primary runoff elections, leading to two final contenders: Republican Chip Roy and Democrat Joseph Kopser.
Roy has experience in the state capitol working for elected officials, as well as the conservative Texas Public Policy Foundation think tank. Kopser, an Austin-based Democrat, is an Army veteran and tech entrepreneur. Both are first-time candidates.
San Antonio Charter Amendments
Result: Voters in Bexar County approved propositions B and C, and did not approve Prop A.
Few issues have piqued the interest of voters like the controversial propositions that were brought about as a result of a petition drive conducted by the San Antonio Professional Firefighters Association.
RELATED | Will Charter Amendment Battle Scar San Antonio's Politics?
Proposition A: Expanding the Referendum Process
This measure would:
Decrease the number of signatures needed to challenge city ordinances or policies from 10 percent of qualified voters in the last municipal election (approximately 70,000 signatures) to 20,000 signatures.
Lengthen the timeframe for obtaining the needed signatures from 40 days to 180 days.
RELATED | Councilman Continues To Advocate For San Antonio Charter Changes
Prop B: Term Limits and Salary Cap for City Manager
This measure would:
Limit the city manager's term and pay;
Require a supermajority vote (eight votes out of 11) to select the city manager;
Limit the city manager to a term of eight years; and
Limits pay to 10 times the amount of the lowest paid city employee.
This measure would not impact the current contract of the city manager.
RELATED | Mayor Speaks Out On Proposed Charter Amendments
Prop C: Binding Arbitration
This measure would:
Allow the firefighters union to unilaterally declare an impasse at any time and force binding arbitration during labor contract negotiations.
Currently, the fire contract follows state law on impasse processes requiring action by both parties to negotiate first in good faith. Then, there's a mediation option before binding arbitration by a third party.
Land Commissioner
Winner: George P. Bush
George P. Bush, son of former Florida Governor Jeb Bush, is seeking a second term. Bush won the Republican primary in March, beating three opponents, including former Land Commissioner Jerry Patterson. Bush now faces Democrat Miguel Suazo, an Austin-based oil and gas attorney. Patterson last month endorsed Suazo over his political rival for the job. Patterson attributed his rare cross-party endorsement with what he called Bush's mismanagement of the Alamo and Hurricane Harvey recovery efforts, according to The Texas Tribune. Matt Piña is running as a Libertarian in the race.
Agriculture Commissioner
Winner: Sid Miller
Democrat Kim Olson, a farmer and Air Force veteran, is challenging Republican incumbent Sid Miller. Olson has never run for statewide office. Miller was elected to lead the department in 2014 and he's faced scrutiny throughout his tenure. Richard Carpenter's running as a Libertarian.
Vince Kong can be reached at vince@tpr.org or on Twitter @teamvincek