FRONTERAS: Dispatches From the U.S. Borderlands; 'Deferred Action' Stage Play
This week on Fronteras:
Dispatches from the U.S. Borderlands. Inside reports from the area haunted by drugs, violence and immigrants.

The status of Texas Attorney General's appeal on the injunction against SB4, the new sanctuary cities law that's on hold.
A movement is underway to stop laws like SB4 from getting passed in other states.
How a Dallas stage play forecast President Trump's decision to end DACA.
All The Agents And Saints: Dispatches From The U.S. Borderlands
The U.S.-Mexico border has been called "a leaking wound" by U.S. Poet Laureate Juan Felipe Herrera. In South Texas, that wound bleeds immigrants, drugs, and violence. Author Stephanie Elizondo Griest spent a decade looking at all aspects of the border – religion, drugs, immigration. Not just in her native South Texas, but at the U.S.-Canadian border as well. And despite being separated by 2000 miles, Elizondo Griest found that the northern and southern borderlands have more in common than not. TPR's Norma Martinez had a chance to talk with the author about her latest book, "All the Agents and Saints: Dispatches from the U.S. Borderlands."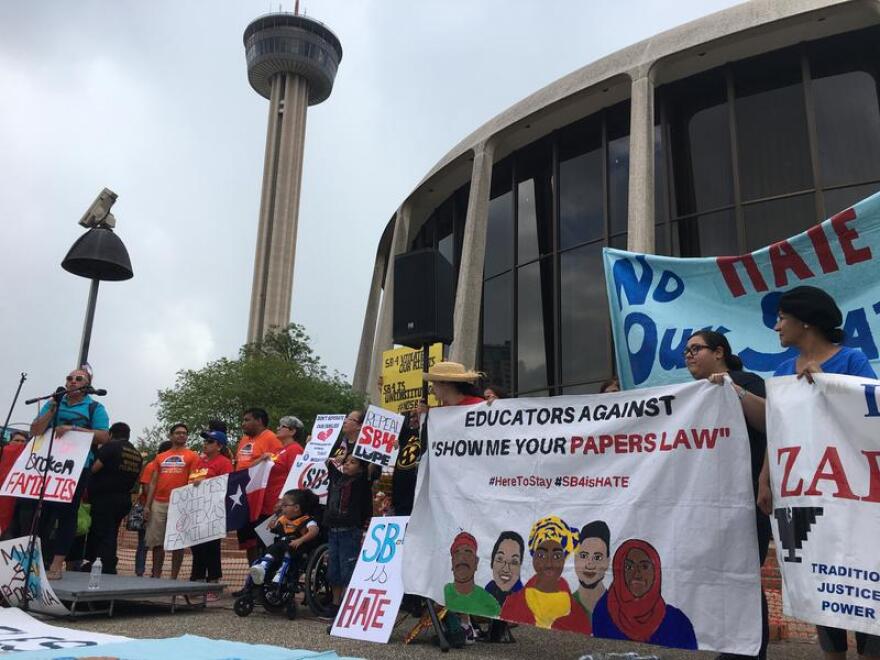 Texas' SB4 Sanctuary City Law On Hold Through November 6th

SB4, the new Texas legislation that critics call the "show me your papers" law, remains on hold through November 6th. TPR's Ryan Poppe has the latest on Texas Attorney General Ken Paxton's appeal of the injunction against the sanctuary cities law that kept it from being enforced September 1stt.

'Not In My State' Campaign Aims To Stop Sanctuary City Laws

The sanctuary cities ban in Texas would punish local officials if they prevent a police officer from inquiring about a person's immigration status. Local law enforcement leaders could be fined, go to jail, and be removed from office if they don't honor all federal immigration detainer requests. To combat laws like SB4, the Mexican American Legislative Caucus this week launched a multistate campaign, titled "Not in My State." El Paso Democratic State Rep. Mary Gonzalez says the campaign will also help fight similar sanctuary city bills being discussed by other state legislatures: " There will be op-eds, conversations, policies and resolutions to make sure that this policy doesn't go to other states."

The "Not in My State" campaign is designed to point out the economic impacts of the state's ban on sanctuary cities, and the phase out of the Obama era federal immigration program known as DACA – Deferred Action for Childhood Arrivals - that protects undocumented children.
Timely "Deferred Action" Play Now On Tour
A stage play that premiered last year in Dallas has become incredibly timely. The drama, called "Deferred Action," is going on tour – to Denton, Houston and Los Angeles. KERA's Jerome Weeks reports.