A Bipartisan Punching Bag in Immigration Debates

The Texas Tribune is taking a yearlong look at the issues of border security and immigration, reporting on the reality and rhetoric around these topics. Sign up to get story alerts.
WASHINGTON, D.C. — To the left, the Obama administration's record on illegal immigration has been an ongoing disappointment, with too many people deported, families torn apart and undocumented workers left hiding in the shadows.
To the right, Obama has presided over the veritable surrender of border security and national safety, allowing too many people — especially criminals — to enter the country, and stay even after they get in trouble.
In the middle sits Sarah Saldaña, a 64-year-old Texan and former federal prosecutor appointed by Obama a little more than a year ago to head U.S. Immigration and Customs Enforcement, the largest investigative agency in the Department of Homeland Security.
It's been a predictably rough ride.
Republican Sen. John Cornyn of Texas wondered aloud why Saldaña would take the helm of the oft-maligned agency. Other allies warned the Corpus Christi native that she'd likely leave Washington with no friends after her tenure. Even immigration hardliner Steve King, the Republican Iowa congressman known for his inflammatory rhetoric about undocumented Latinos, took pity on her during an April 2015 Congressional oversight hearing, where Democrats and Republicans used her for rhetorical target practice.
"I understand you're in a difficult position in this job," he said. "I would note the irony that one side is angry when you enforce the law, the other side is angry when you don't enforce the law."
If the pressure bothers the veteran prosecutor, it didn't show in a December interview at the agency's Washington headquarters, where Saldaña oversees 20,000 employees spread out over all 50 states and 48 foreign countries.
A graduate of Texas A&I University (now Texas A&M) in Kingsville and Southern Methodist University Law School in Dallas, Saldaña served as the first Latina U.S. Attorney for the Northern District of Texas. She was seen as a hard-nosed prosecutor with a zeal for pursuing public corruption cases — sometimes riling fellow Democrats in the process.
Saldaña said she had to "think long and hard" about taking the ICE job, which she started in December 2014. It was her extended Hispanic family — she's the last of seven siblings — who convinced her "you have to do this," she said.
"I'm at the point in my career where I am in it for the mission," said Saldaña. "I have a gorgeous home in Dallas. I'm happy to get back to Texas when I'm done with this. But while I'm here, I'm going to be fighting to try to bring some rationality ... to the topic of immigration and trying to help do what we can do in the absence of reform."
That's a tall order. Policing foreigners who violate the law — and detaining and deporting undocumented immigrants — lands her agency in the middle of bitterly divisive politics.
Read MoreHouston Slayings Fueled Border Security Debate
From local elected officials in "sanctuary cities" who treat ICE agents like anti-immigrant pariahs to congressmen who incessantly complain about the thousands of "criminal aliens" being released onto U.S. streets each year, nobody seems happy with the sprawling agency.
That includes U.S. Sen. Ted Cruz, a top presidential contender, who has wielded anti-immigrant rhetoric like a machete in the GOP primaries. During a Senate Judiciary Committee hearing in December, Cruz and Saldaña — both Lone Star State Latinos, but nothing alike politically — clashed repeatedly over policies for removing deportable criminals.
Cruz grilled Saldaña on how her agency decides to target what it calls "the worst of the worst" while focusing less on people convicted of minor crimes, or whose only violation is coming or staying here illegally.
At several points, Saldaña interrupted and spoke over Cruz. "I just do not believe sir, you are from the great state of Texas where we understand the real world," she said. "I can't believe ... that you would think that the women and men of ICE or myself would turn their backs on the deportation of a criminal alien who needed to be removed." At another point she scolded the firebrand senator for "playing games with words."
Cruz shot back that her answers were filled with "non sequiturs" and reminded her that she was "charged with following the law, the law that Congress has actually passed, not the policy views of President Obama that contradicts the law."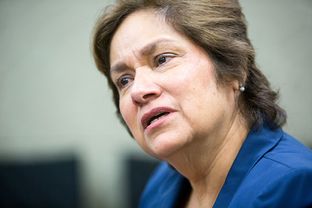 Enlargephoto by: Allison Shelley
Sarah R. Saldaña, director of U.S. Immigration and Customs Enforcement, said she had to "think long and hard" about taking the ICE job, which she started in December 2014.
Asked later for her take on Cruz's deport-everyone approach — and why she played the Texas card — Saldaña said the "idea that we could come in and swoop them all up and take them away, to me makes no sense."
"I think George Bush had a practical plan. Even Rick Perry looked at it practically as well, and I would consider myself a practical Texan as well," she said. "That's kind of what I meant."
Cruz wasn't the only one who lit into Saldaña that day.
Democrats were sometimes as harsh as Republicans, riddling her with questions about detention policies that they believe break apart immigrant families and, in one notable exchange, the controversial release of a Haitian convict who was subsequently charged with murder in the stabbing death of 25-year-old Casey Chadwick in Norwich, Connecticut. She was killed a few months after Haitian Jean Jacques was released from state custody without being deported.
U.S. Sen. Richard Blumenthal, a Connecticut Democrat who emphasized his support for pro-immigrant reforms, told Saldaña that her agency's handling of Jacques' immigration case was "abysmally and abhorrently inadequate."
"It isn't a question of whether he had to be released," Blumenthal said. "It's a question of what was done to deport him and why he is not back in Haiti and Casey Chadwick still alive. That's the real question here."
The case illustrates one of Saldaña's top frustrations: A 2001 U.S. Supreme Court decision — Zadvydas v. Davis — requires the government to release detained foreigners, like Jacques, whose home countries won't take them back after they've been ordered removed, typically after criminal convictions in the United States. In Jacques' case, ICE wanted him deported at the end of his 17-year sentence for a 1997 conviction for attempted murder, but said due process rules and a lack of travel documents made his removal impossible.
Thousands of detained immigrants each year are put back on the streets due to the Zadvydas order, which generally obligates the government to release them after six months if it becomes clear the agency won't be able to promptly deport them.
Critics, including Blumenthal, say the federal government should lean on countries harder — noting that the United States provides Haiti billions of dollars in foreign aid and could apply pressure on the Caribbean nation to take its nationals back. Blumenthal has asked for an outside inspector general investigation to determine what steps might have been taken to get Jacques returned to Haiti.
Saldaña vowed to cooperate with the probe, but she said her hands are often tied in such international disputes.
"We can't just drop them off without the country being in a position to accept them," she said. "I am as frustrated as you are with some of these countries that we have those difficulties with."
In the Tribune interview, Saldaña said she was working with the U.S. State Department in an effort to pressure recalcitrant countries into accepting their nationals when the agency decides to deport them. Under existing law, the State Department is supposed to deny travel visas to countries that won't take back their convicted nationals, but it hasn't been using that power.
"One part of the government doesn't come in and say cut them off from [aid]," she said. "We have to rely on State to help us, so I'm going to continue working with State and we have had some communications, but talk about a difficult job working with foreign governments around the world."
Working with governments in this country hasn't been a walk in the park, either. From the moment Saldaña took office, she has spent considerable time and energy trying to convince local law enforcement agencies — mainly sheriffs and big city police chiefs — to cooperate with her agency in apprehending immigrants the agency wants to detain or deport.
She says that job got easier when the Obama Administration announced a new and more lenient policy toward deportable immigrants in November 2014. The controversial order scrapped the Secure Communities program — popular with Republicans in Congress and law-and-order sheriffs, but highly unpopular among advocates for undocumented immigrants and many Democratic elected officials. The replacement is called the Priority Enforcement Program, which the agency pitches as an immigrant-friendly policy that ensures the "worst of the worst" are getting a one-way ticket back to their country of origin.
"Listen, if I can get two or three murderers or rapists or child molesters through a cooperative communication with that sheriff, I'm going to do it because in the end that may save some lives."— Sarah Saldaña, director of U.S. Immigration and Customs Enforcement
It's not an easy balance, and Saldaña admits that sometimes people slip through the cracks of a system with backlogged immigration courts and lots of due process given to immigrants in the deportation process. Part of her pitch to non-cooperative jurisdictions, she said, is that immigrants themselves are often the targets of criminal acts by other immigrants.
"So much of the criminality that we aren't able to prevent is lodged against other members of the immigrant community," she said. "Some of these folks who have criminal backgrounds and who are intent on criminal activity" often victimize other immigrants, she said.
Saldaña said when it comes to "sanctuary cities," there's a world of difference between states like California and her native Texas. In California, the state Trust Act, passed in 2013 due to widespread mistrust of federal authorities, sharply limits cooperation with federal authorities. Agency data shows California is responsible for nearly 60 percent of "detainers" — requests to hold immigrants until federal authorities can get there to detain them — recently declined by local law enforcement.
Saldaña said ICE is "not having any issues right now" in Texas, but she's aware that could change — particularly in two Democratically controlled counties where local immigration activists want sheriffs to stop cooperating with the federal agency.
"Travis and Dallas [counties] have come onto the radar as getting a lot of pressure," she said. "They have been telling us they want to continue cooperating, but they bring to my attention the pressure they are getting. It's real."
Those two counties stand out, for different reasons, in records obtained from ICE under the Freedom of Information Act by the Tribune. Travis led the state in the number of declined detainers, with 72 rejected from January 2014 through the third quarter of 2015. Dallas, meanwhile, was the only county listed as having an official policy that limits cooperation with ICE.
Read MoreJails Refused to Hold Thousands of Immigrants for Feds
Both counties took issue with the federal government's description of their declined detainers and level of cooperation, but neither side released written details of the interactions with each other, and Saldaña emphasized that Texas overall remains one of the most ICE-friendly states in the country.
The reactions underscore how touchy the subject of local-federal cooperation on immigration matters remains. The way Saldaña sees it, there's a good reason she doesn't "name and shame" non-cooperative jurisdictions: She says it would make them even less likely to cooperate — which could lead to more preventable tragedies.
"Listen, if I can get two or three murderers or rapists or child molesters through a cooperative communication with that sheriff, I'm going to do it because in the end that may save some lives," she said. "I'm not going to go publish the list of bad boys and girls. What I'm going to do is dig in and work even harder to get them."
Amid all the outrage from Congress about ICE's handling of deportable criminals, Saldaña said people have lost sight of the fact that the internal court system used to process them is overloaded and desperately short of judges, often triggering yearslong delays before people get deported.
More importantly, she said the most rational fix — comprehensive immigration reform allowing some to stay and forcing others to go — has crashed and burned repeatedly, with no expectation that it will pass the sharply divided Congress.
The bill passed by the Senate in 2013 envisioned criminal background checks and mandatory electronic verification of employment — provisions that backers said would allow ICE to focus on deporting criminals without catching otherwise law-abiding people in the dragnet. Opponents said the reform effort would have unfairly rewarded those who came here illegally and would not have fixed the country's long-term immigration woes.
Now, more than two years later, as the problems continue to fester amid gridlock on Capitol Hill, Saldaña said she wanted to "shout from the mountaintops" the need to reform the system.
"I guess this call has fallen on deaf ears and nobody is listening," she said. "This is an issue that tears this country apart, and we're refusing to work on it because we're so busy pointing fingers at each other."
Disclosure: Southern Methodist University was a corporate sponsor of The Texas Tribune in 2013. A complete list of Tribune donors and sponsors can be viewed here.
This article originally appeared in The Texas Tribune at http://www.texastribune.org/2016/02/07/ice-chief-finds-herself-political-hot-seat/.