Aztec Hosts Spanish Harlem Orchestra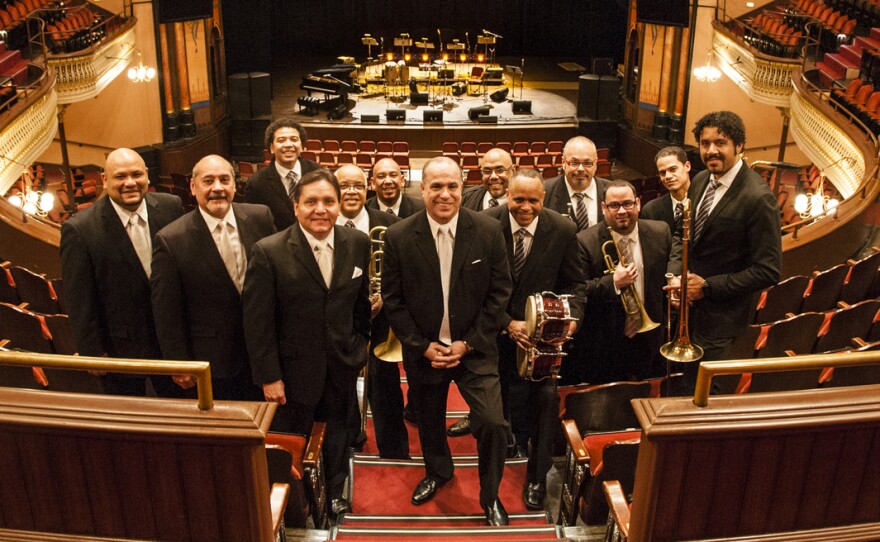 Spanish Harlem Orchestra
courtesy Spanish Harlem Orchestra
Spanish Harlem Orchestra
Ab McNeely
Oscar Hernandez
Bill Douthart
Oscar Hernandez
Grammy.com
A New York City band returns to the Alamo City, and they have a big sound. Their music grows out of a specific place, the place Oscar Hernandez calls home. His family originally hails from the Caribbean, but home is northeast Manhattan.
"People who came from Puerto Rico mostly settled in Spanish Harlem. Or in Spanish they would call it El Barrio."
The Spanish Harlem Orchestra breathes new life into the salsa traditions of Tito Puente and others. Hernandez describes their sound.
"It's a raw, organic sound that people have forgotten. Because everything now is slickly mass-produced, and that sound is what I came from."
This is the era of drum machines and keyboard sounds by the thousands, but his band creates all the sounds right there on stage using voice, horns, piano. And it's all underscored by lots and lots of rhythms.
"It's a 13-piece orchestra with three vocalists up front, a five-piece horn section, and a five-piece rhythm section," he said. "For me as an artist I feel totally blessed and honored to maintain the tradition that we are maintaining with our music."
The Spanish Harlem Orchestra will play the Aztec Theatre downtown next Tuesday night. Turns out for Hernandez, that's a special night.
"Hope to see everybody in San Antonio on Tuesday, which coincidentally is my birthday, so I'm looking forward to having a great birthday," he laughed.
Find more on the Spanish Harlem Orchestra here.
Find more on the Aztec Theatre here.
Find out more about Arts San Antonio here.
https://www.youtube.com/watch?v=RH30R89KKA0